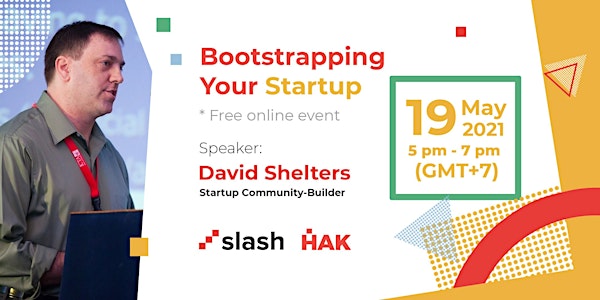 Bootstrapping Your Startup
Register now to secure your free ticket and receive the meeting link. Limited sales.
About this event
Bootstrapping often serves as a term to describe a cost-saving action.
In this session, the concept of bootstrapping undergoes a redefining to include much more. It can also transform into an effective strategy to remove the need to raise investment funds as far into a venture's life cycle as possible to minimize dilution of Founders' equity and loss of decision-making control.
The event will introduce various types of bootstrapping decisions and opportunities. They will serve as a basis for formulating a bootstrapping strategy. Very few startups will be able to go from incubation to exit via bootstrapping. Deciding when to abandon the bootstrapping strategy and proceed with fundraising is one of the most important decisions a founding team will need to make. The workshop will conclude with the "when" and "how" for that key decision.
About the Speaker
David Shelters possesses over twenty five years of entrepreneurial experience as a co-founder, board advisor and mentor to numerous tech start-ups in both America and Asia. For the past twelve years David has been an active community-builder and advocate in the Thai startup scene. Since January 2020 David has resumed his community-building efforts in the emerging Cambodian Startup community.
About the Organizer
Organized by Slash and HAK.
Slash is a Build Studio. We build remote, autonomous teams to help innovators develop software, products and hi-tech startups. We also build and invest in our own startups and commercialize them through joint ventures in ASEAN and Europe. Slash has headquarters in Singapore and community-oriented R&D hubs in Phnom Penh, Bali and Armenia. Get to know us more on slash.co.
HAK is a community initiative by Slash, to advance venture building, product and agile development practices. We release our weekly HAK podcast on venture building and corporate innovation, our regular blog posts and organize virtual events on the latest in tech & product skills with guest speakers. We hold physical events in Phnom Penh and and Bali for our communities there. Find out more on slash.co/hak.