Description
Congratulations and welcome to Bove Journey Prenatal Workshop!
Pregnancy is one of the most educational experience a woman can go through, and we have partnered with an eclectic team of experienced professionals to help you prepare for your motherhood journey.
Register now and receive a GOODIE BAG* worth more than $50! *Limited to the first 50 couples.
Plus enjoy free FOOD SAMPLING by Lavias - Bonmil Organic Milk and Choz Confectionery.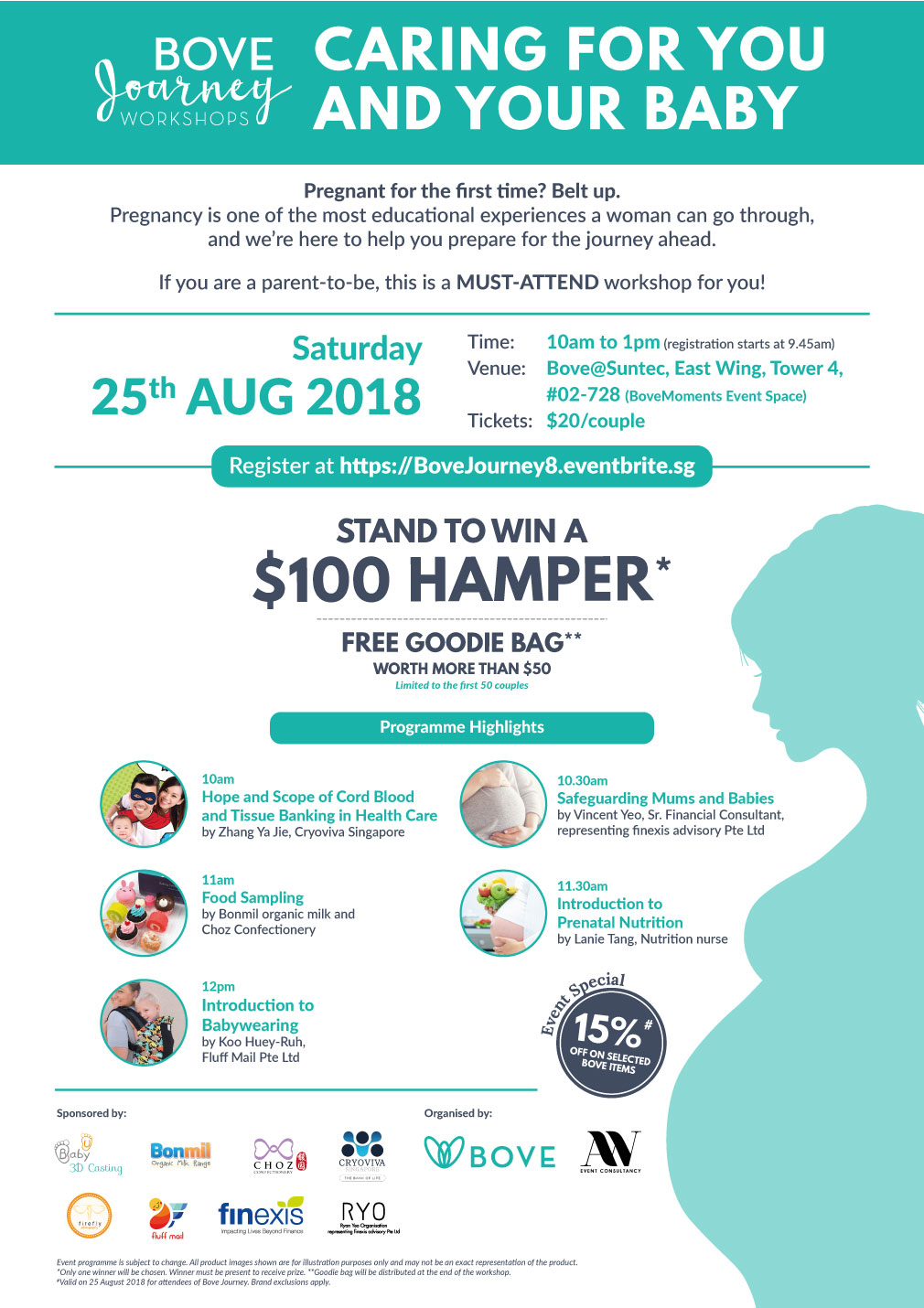 ABOUT OUR SPEAKERS
Hope and Scope of Cord Blood and Tissue Banking in Health Care by Ms. Zhang Ya Jie Cryoviva Singapore
Ms. Zhang Ya Jie is a well-trained consultant in Cryoviva Singapore. She has many years of experience in the healthcare industry including 7 years as a senior healthcare provider in a hospital, specialized in general surgery and isolation.
Safeguarding Mums and Babies by Senior Financial Consultant, Vincent Yeo representing finexis advisory Pte Ltd
Vincent has been in the financial advisory industry since 2014 and is concurrently a Practice Mentor to his team and enjoys grooming aspiring consultants. As a father of 2 active kids, he knows the importance of quality time and believes strongly in planning early and strategically because os any decisions we make will have a significant impact on ourselves and the ones closest to us.
Introduction to Prenatal Nutrition by Lanie Tang Lavias Pte Ltd
In 2006, the decision of being registered nurse gave a heads up for Lanie's career. She has been serving the community in Singapore General Hospital from 2006 to 2011. Lanie is committed to helping more women especially mothers as these women whom she has helped will continue to serve and educate the next generation.
Introduction to Babywearing by Koo Huey-Ruh Fluff Mail Pte Ltd
Huey-Ruh started her babywearing journey 8 years ago when her first child was born. Now a mother of 3 boys, Huey-Ruh is one of the very few babywearing consultants in Singapore double-certified by the prestigious Die Trageschule Dresden (Germany) and School of Babywearing (UK). As an avid babywearer and passionate educator, Huey-Ruh has generously shared her knowledge in various forums and helped many parents in their babywearing needs.
---

Do continue to join us on this journey of promoting Health & Wellness; Nutrition & Development for you and your baby.
Should you need further assistance, kindly contact the organiser or email AWlifestyle@asia.com. Visit Bove Facebook page for more exiting workshops.

*By signing up for this event, you agree that there will be photography taken during the session. The organiser reserves the right the use of photographs taken in the event for future marketing purposes.