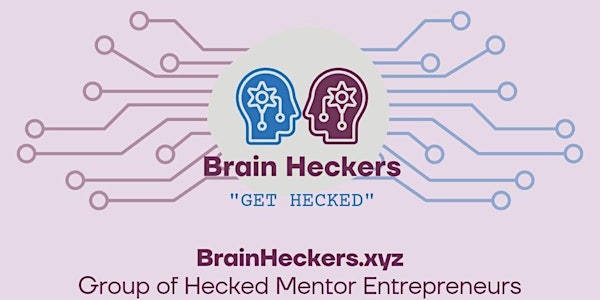 Brain Heckers - The Key to Your FEARLESS FUTURE (Let's Get Hecked!)
We know that you are struggling through your mid-life. Right now, the world is ​changing too fast for you to catch up.
About this event
Your regrets and insecurities are holding you back from surviving in this new-age ​digital world and you're sick and tired of struggling with your insecurities and ​constantly being fearful.
And with so much digital and tech, you know you are going to be obsolete and ​dismissed very soon.
You probably don't know how to take control of your financial security anymore...
So why not let us help you take back control of your life?
Start creating that urgency and let our program help you GET OUT OF STAGNATION and ​create your breakthrough to make more.
By transforming you into someone of value and building your personal brand into an ​asset. Age is just a number and retirement is now a choice.
What you will learn?
WE WILL TRAIN YOU HOW TO FAIL ​TOWARDS A BREAKTHROUGH!
👉🏻 DROWNING IN A NEGATIVE RAT RACE THAT'S BURNING YOU OUT
👉🏻 CRUELLY DISMISSED AND YOU FEEL UNWORTHY
👉🏻 UNHAPPY & INSECURE. YOUR BODY BREAKING DOWN IS MAKING THINGS WORSE
👉🏻 STRUGGLING TO SURVIVE IN THIS NEW SOCIETY WITH ALOT OF FEAR & NO RESULTS
👉🏻 STUCK IN YOUR TRADITIONAL BUSINESS AND DOWNSIZING IS NOT HELPING
👉🏻 TIRED OF LAGGING ALONE TO STAY PROFITABLE AS AN ENTREPRENEUR
SO? HOW CAN YOU BENEFIT?
What's the point here? Why are we talking so much about failing?
Failing triggers your AWARENESS.
If you're not aware enough, we'll make you fail some more. That's our core step to breakthroughs.
The next reason you're not seeing results or reaping benefits?
You don't know how to connect the dots!
By teaching you about failures and how to do it properly, you will get exposed to ​creative problem solving and innovation to maximize your brainset & skillset.
- How to spot opportunities in seemingly bad situations and profit from gaps in the ​market.
- Learning how to make decisions when things are not going well
Our progressive program will help you combat 'mid-age crisis' (especially if you are ​above 35-55) to further upskill and power you up with all the strategies, techniques,​ resources, and most importantly, the COURAGE to help you get out of YOUR FAILS AND​ REGRETS; towards your transformative breakthrough!​
- To increase self-esteem & confidence of showing up regardless of outcomes.​
- A healthy mind and body to become productive and effective.​
- Learning skills to spot opportunities and reap profits.​
- Building an empire business of 5 figures and beyond.​
We will also challenge you by engaging with activity-based training that other typical​ programs don't deliver.​
And then we'll support you to become the "Fearless Human Asset" of tomorrow.​
So that you become fit, healthy and super desirable, literally the IN-DEMAND HUMAN. ​
You will be the one whom other people are ENVIOUS OF AND DEMANDING for in today's​ environment!​
Expect a lively interactive online 4-hour Taser workshop conducted by 4 experienced Hecker mentors.
The workshop will be split into 2 evening days
To checkout: just pick EITHER one day and make payment.
We will be in touch to send you details!!
Get onto this program with us to learn how we can help you to upskill and​ upscale!​