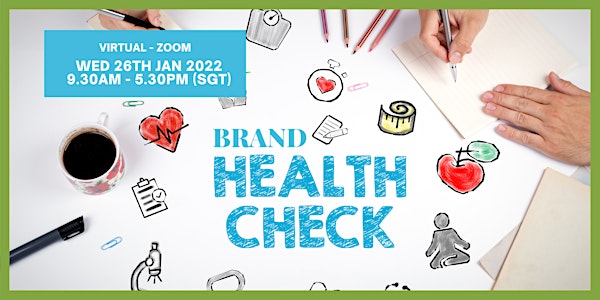 BRAND HEALTH CHECK – How to conduct a DIY brand audit (Virtual)
This one-day workshop will give you the tools and best practices in conducting a brand audit
Refund Policy
Refunds up to 7 days before event
Eventbrite's fee is nonrefundable.
About this event
Are you looking to improve your brand's performance?
This workshop will teach you how to identify what's working, what isn't and an action plan of steps that can be taken towards achieving your desired brand state.
A Brand Audit is a great way to benchmark your current brand health and identify areas for improvement. In this course, we'll teach you how to conduct a DIY Brand SWOT analysis professionally. We'll also show you the best practices in creating an action plan that will help improve ROI in branding and marketing investments.
You can use these techniques on any type of brands (product brand, service brand, corporate brand, employer brand etc.) industry or niche, so it doesn't matter what type of business you have!
You will also receive access to our exclusive Telegram group where you can interact with other participants, ask questions about the content covered in the course and get access to more useful tools.
Benefits of conducting a Brand Audit:
Helps you to identify the blind spots in your brand building efforts
Helps you to determine the positioning of your business and to plan corrective strategies
Empowers you to discover the strengths and weaknesses of your brand so you can implement changes to make it stronger to increase customer engagement and your profits
Guides you to align your offerings more accurately with the expectations of customers
Enables you to get up to speed with the perceptions (positive or negative) about your business
Re-establish clarity and focus on what your brand strategy
Outline
Understand what Brand Audit is, its scope and what it can achieved
Understand the brand strategy framework
Apply the different tools, techniques and tips in conducting a brand health check
Identify the brand's strengths and weaknesses
Mapping the key brand touchpoints that drives perceptions
Brand action plan
Who is this course for
Marketers, Business owners, entrepreneurs, leaders, executives and managers who wants to gain competitive advantage through identifying the gaps and opportunities to take their brands to the next level.
Methodology
This course is highly hands-on and interactive; 30% concept and 70% practice. The course includes the use of:
Group discussion
Case studies
Self-evaluation and feedback
About The Trainer - Ms Catherine Chai
Ms Catherine Chai is the founder of Broc Consulting, a 13-year old brand consulting company based in Singapore.
She has spent the last two decades helping B2B and B2C organisations to increase business value and sustainability through developing robust brand strategy roadmaps and grooming in-house brand champions. Some of the brands she had worked on include Raffles Hotels & Resorts, Brands Essence of Chicken, Bee Cheng Hiang, TDK, Tote Board Group, Kao, Manhattan Fish Market, Tee Hai Chem, Tote Board Group, iZeno, Straits Construction, to name a few.
Catherine is the author of From Bland to Brand - The Essential Branding Handbook for Asian Businesses.
Client Testimonials
"Catherine provided me a meaningful, fulfilling and formative training on branding. I really appreciated her approach in order to explain how to personify our brand. Her support will be very useful for developing my company in various areas and countries. I highly recommend her to companies with similar projects as us. "
Rémi Nguyen - Founder - Director, MLR Company Limited
"Excellent interaction with the trainer who is generous in sharing her knowledge and advice"
May Goh - Corporate Communications Director, Ngee Ann Polytechnic
"Catherine has the ability to draw on her expansive knowledge to inspire, educate and connect with others at all levels in our organisation. Not only has she helped us chart a new brand identity, she equipped and motivated our employees to understand our strategy and deliver on it - in a fun and engaging way. My company has greatly benefited from her expertise"
Wong Chee Herng - CEO and Group Managing Director, Straits Construction
"When deciding on the consultant to work with, besides track record, we use core values as the yardstick to assess, and Catherine came through with flying colours. She impresses us with her passion and professionalism. For companies looking to strengthen their brands, we strongly recommend Broc Consulting under the leadership of Catherine. Your brand will be in steady hands, Catherine's passion and commitment are unparalleled, and she works with only one goal in mind – strengthening your brand and bring out its untapped potential"
Han Koon Juan - Executive Director, Tee Hai Chem