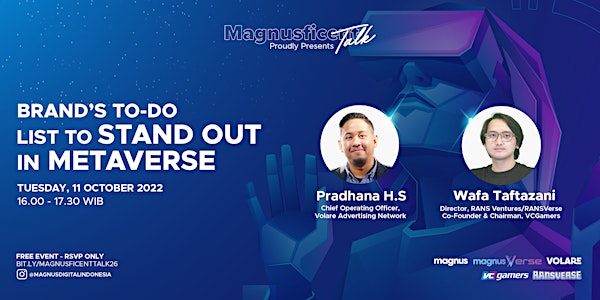 Brand's To-Do List to Stand Out in Metaverse
We cordially invite you to an exclusive sharing session to explore deeper into the Metaverse!
About this event
#MagnusficentTalk is here to get you updated about "Brand's To-Do List to Stand Out in Metaverse"
The Metaverse has the world's attention, it can help businesses reduce wastefulness and increase productivity. It's a lot more than VR and by the end of this decade, it will transform businesses, work, and connections. We can observe many businesses shift to the Metaverse similar to how businesses started to shift to cyberspace and social media. Virtual Reality is a step up and businesses are preparing to take part.
Businesses are starting to look at options to save their place in the virtual space. With the Metaverse, businesses can engage with their prospects, explore new opportunities and stay up to date on the latest technologies.
Join us on the upcoming #MagnusficentTalk to get to know and learn about:
Facts about Metaverse. What does Metaverse mean for business?
What is the advantage for Brands when using Metaverse for their business? What are the opportunities?
What brands need to prepare for entering the Metaverse?
How can Metaverse visualize its product or service?
Rundown
16.00 - 16.05 Opening
16.05 - 17.25 Expert Sharing Session with Pradhana H.S, COO, Volare Advertising Network, and Wafa T., Director, RANSVerse
17.25 - 17.30 Closing
*Event will be conducted in Bahasa Indonesia
**If any, please do sign up using your corporate email
***By registering for our webinars, you agree to receive emails and other communications from Magnus - Magnusficent Talk and its partners about products, services, and events that are related to your interest in digital marketing. You are free to withdraw this consent at any time.