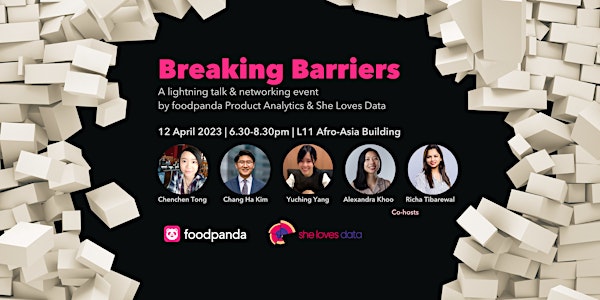 Breaking Barriers: Lightning Talk_Networking_SIN
Whether you're in product, analytics, or another area all together, join us for an evening of breaking barriers and making connections!
Date and time
Wed, Apr 12, 2023 6:30 PM - 8:30 PM +08
Location
foodpanda Singapore Amphitheatre (11th floor entry) foodpanda HQ, Afro-Asia building Singapore, 068894 Singapore
About this event
Join us for a mix of lightning talks and fireside chat where we'll dive into the world of product analytics (talking terabytes of data here!), how it's not the same as business analytics, and the human factors that make the work feel purposeful.
We'll talk about:
What it's like to be part of a product analytics team
Biggest rewards and challenges of working in this hybrid niche
Lessons learned in co-creating a more diverse and supportive team
Perspectives from #womenInTech and how to stand out as a nontraditional candidate
This event is also a great opportunity to network with professionals across a variety of backgrounds. Just come with an open mind and a willingness to meet some new friendly faces!
Space opens from 6.30 pm. Light refreshments will be provided.
Important
Please note that videography and photography of offices and meeting rooms near the amphitheatre will not be allowed.
Speakers
Chang Ha Kim
Senior Product Analytics Manager@Delivery Hero
Chang Ha is the Senior Manager in Product Analytics, leading the Q-commerce and New Business product lines. He has worked in Delivery Hero for roughly four years now, since being hired as the first Product Analyst in the new Singapore Tech Hub. Prior to Delivery Hero, he worked in Fox Networks Group in Singapore and L.A.
Chenchen Tong
Senior Product Analytics Manager@Delivery Hero
Chenchen is a senior analytics leader with over 10 years of experience in advanced analytics, working across industries in various domains such as big data infra, machine learning, computer vision, geo-spatial optimization, NLP, and product analytics. She is currently working in the Delivery Hero product analytics team covering user growth topics such as marketing & incentive, subscription, and acquisition & retention.
Yuching Yang
Product Analyst@Delivery Hero
Yuching is a product analyst who is focusing on the New Business product line. She is the first product analyst in Delivery Hero's Taiwan Tech Hub and has been with the company for about a year. Before Delivery Hero, she worked in a music streaming company and ad tech company as a data analyst.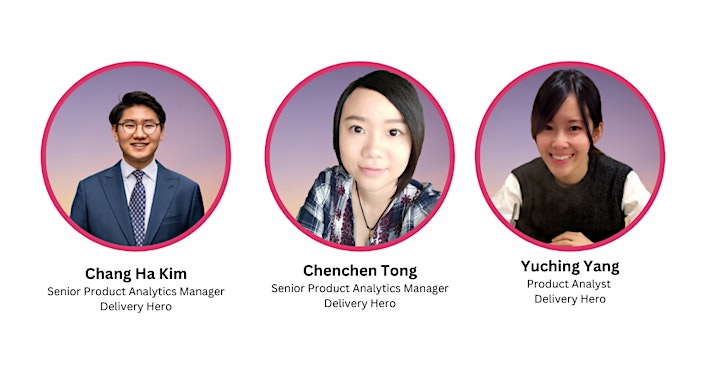 About the organizer
The SheLovesData movement was born out of belief, that women have many talents, virtues and lots of value to bring to the table when it comes to data, technology, and analytics.
Our signature "Introduction to Data Analytics" workshop provides women from all walks of life the opportunity to learn the very basics of data analytics from experts, no experience required, with the aim to encourage more women to consider a career in data analytics, where diversity is so needed!