In a world where remote working is the norm, it's all about tapping into it at the right time, by the right way, with the right means.
About this event
Join us in this webinar to hear how business leaders built their remote tech team in Vietnam where software development goes beyond borders.
When
Date: Wednesday, 22nd June 2022
Time: 14:00 - 15:30 Singapore Time (GMT +8)
Location: Zoom (Online Event)
This programme will cover
From Outsourcing to Offshoring - Different models of getting tech done in Vietnam
Remote Talents: A Startup's Ally
How To Manage Your Offshore Tech Team In Vietnam
Who should attend
Growth-stage startups (> Series A) and SMEs in Singapore
Founders/Co-founders, CEOs, COO/GM, Business owners
CTOs, VP of Engineering, Technical Director
CHRO, HR Director, HR Manager, Talent Acquisition Manager
Programme agenda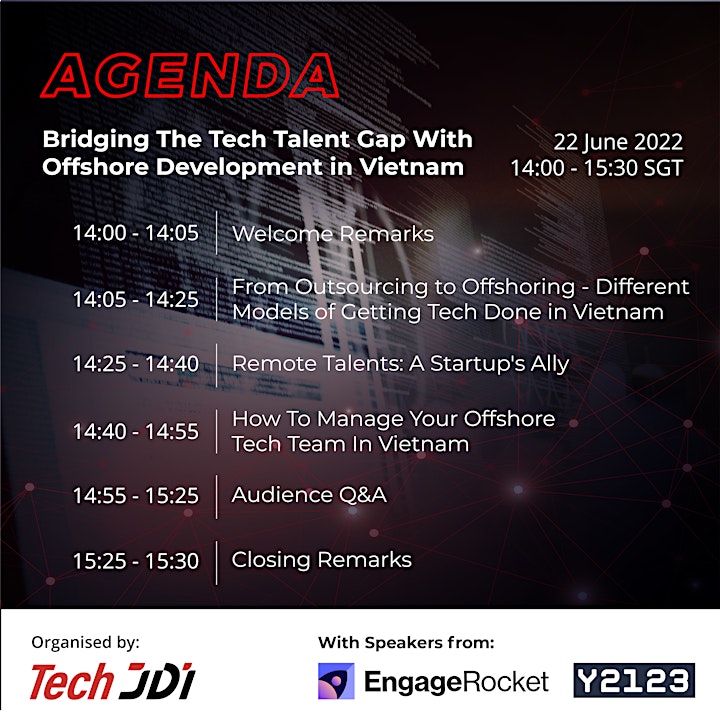 For Inquiries
Please send an email to alyssa.tran@techjdi.com and we will respond to you shortly.