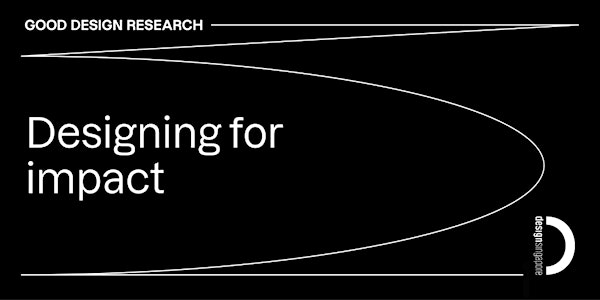 Briefing Session: Good Design Research Grant (Oct 2022)
BRIEFING SESSION
About this event
The Good Design Research Grant is now open for application!
The Good Design Research (GDR) initiative empowers local designers and enterprises to experiment and innovate through design research to address complex and global issues. The initiative highlights the significance of how design—when anchored by deep research—can make a true difference in innovating for real world problems and expanding boundaries of knowledge.
GDR provides support to designers and enterprises in the form of seed funding, developing their unique proposition, presenting potential business opportunities and access to an ecosystem of mentors and partners including challenge statement partners and resource partners. Challenge statement partners create potential business opportunities by engaging designers with real world problems, and resource partners offer expertise that enhance designer research and innovation capabilities for new value creation.
Note that attendance for this briefing is not mandatory to apply for the grant.
Join us for this session to find out everything you need to know to apply!
Types of Application
Your proposal could be (1) self-initiated, (2) in response to current challenges from one of our partners, or (3) inspired by one of Dsg's open challenges.
Self-Initiated Proposal
Submit a self-initiated proposal if you already have an existing project in mind.
Challenge Statement from our Partners
Singapore Furniture Industries Council: How might we use design to develop new environmentally friendly materials from waste and employ these materials in furniture/furnishing making?
Ministry of Education: How might we use design to increase Singaporeans' appreciation for different types of careers and experiences? How can we motivate Singaporeans to pursue their goals and dreams without the pressure to conform to a limited, more traditional definition of success?
Lien Foundation: How might we help elderly men find meaning and purpose in their old age?
Open Challenges from Dsg
How might we build a stronger sense of connection to the community – a feeling of bond and affection for others in Singapore?
How might we enhance people's sense of attraction to the city?
How might digital experiences be better designed to nurture empathy?
What you can expect
3:00-3:05pm Introduction (5min)
3:05-3:50pm Hear from our Challenge Statement Partners (45min)
3:50-4:00pm Applying for the GDR grant (10min)
4:00-4:15pm Q&A (15 min)
Our Speakers
Chu Yu is a Sustainability Executive at the Singapore Furniture Industries Council (SFIC). She has experience working in various organisations, including KPMG (Sustainability Services) and the NUS Office of Sustainability. She represented Singapore at the United Nations Youth4Climate in Milan (2021) and New York City (2022).
Sharon is a trained educator with 13 years of experience ranging from planning policy to heading a department in a primary school. In her current role in Design Office, Communications and Engagement Group, she looks at designing content, products and experiences to connect and engage with students, parents and the public about matters in education.
Tze Yong is a Programme Director at the Lien Foundation with a background in journalism, liberal arts, he has a Design MBA from the Parsons School of Design.
Genine and her team lead strategic planning and research projects to support Dsg's vision of making Singapore an innovation-driven and loveable city by design. This includes the Loveable Singapore Project, which started in 2020, Singapore's inaugural study that looks at the loveability of a city, beyond liveability. Genine also drives Dsg's Strategic Futures initiatives, which spotlights and sense-makes the impact of emerging trends on Singapore design.