BRT Weekend: "MIAMI, FL" 3-Day Music Festival | Machel Montano & Alkaline P...
Description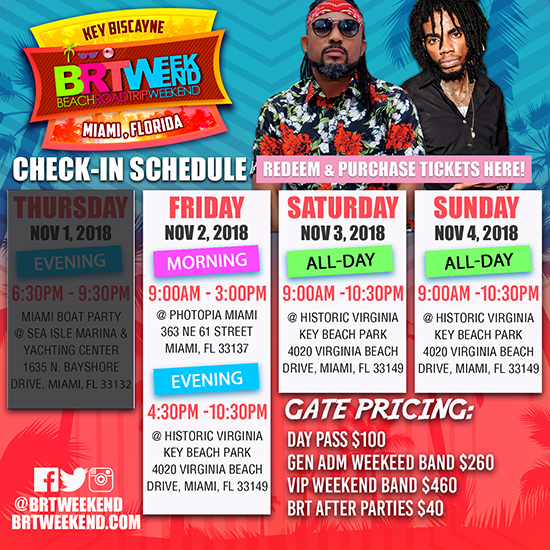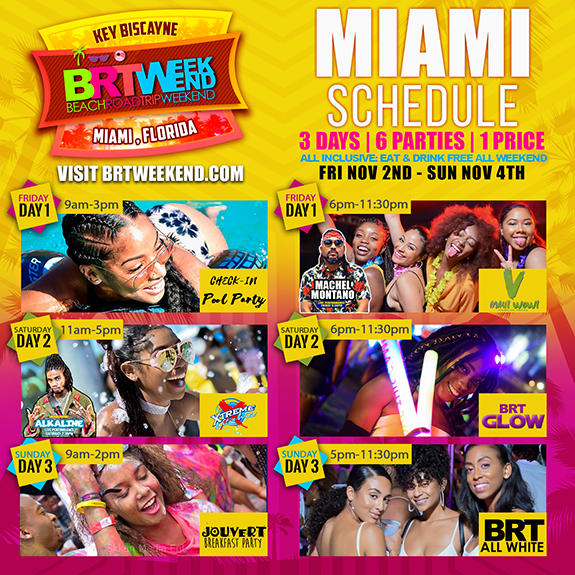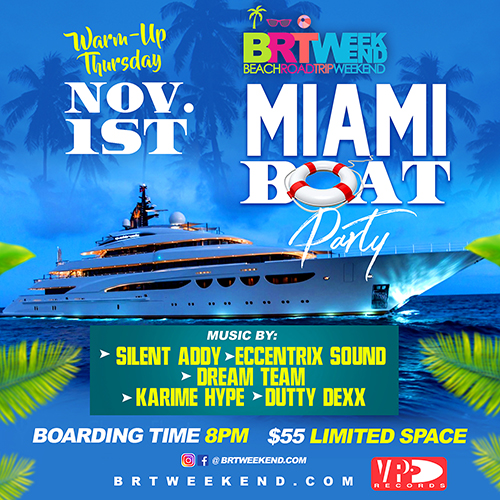 - MACHEL MONTANO & ALKALINE PERFORMING LIVE -
3-Day Beach Vacation in Miami, FL. Nov 2nd - 4th 2018
*FINAL EARLY BIRD SALE: Promo Code [FINALEARLYBIRD]
$255 Weekend Pass | $450 VIP | $100 Day Pass
Recommended Hotels: * Use Links For Lowest Rates *
---
BRT Miami, FL Schedule:

Warm-Up: Thursday, Nov 1st, 2018
- Miami Boat Party (Boarding Time 8pm) *$80
Dock: Sea Isle Marina & Yachting Center - 1635 N Bayshore Dr, Miami, FL 33132
Day 1: Friday, Nov 2nd, 2018
• Check-In POOL PARTY @ Photopia Miami (9am-3pm)
• V Maui Wowi Bonfire: Machel Montano Performance (6pm-11:30pm)
- BRT After Party @ Cameo Nightclub (12am-4am) *$30
Day 2: Saturday, Nov 3rd, 2018
• Xtreme Wet 'N Wild: Alkaline Performance (11am-5pm)
• BRT Glow Eruption (6pm-11:30pm)
- BRT After Party @ 380 District Miami (12am-4am) *$30
Day 3: Sunday, Nov 4th, 2018
• Jouvert Breakfast Party (9am-2pm)
• BRT All White "Grand Finale" (5pm-11:30pm)
- BRT After Party @ Cameo Nightclub (12am-4am) *$30
---
FAQ:
What is BRT Weekend?
Created in 2012, Beach Road Trip Weekend, or #BRTweekend simply put, is the ultimate destination, day-party series. Now in several amazing cities, patrons from around the world take a road trip to party, vacation, and revel in each other's company for an entire weekend. Inspired by Caribbean culture, each of our festivals includes 6 uniquely themed events, all-inclusive with free drinks & food, across a multi-day span in a beautiful resort location.
What Is A Weekend Pass?
Weekend Pass Tickets are always the best option. With a Weekend Pass, you'll get entry to all main events including The Welcome "Check-In" Party, V Maui Wowi, Xtreme Wet 'N Wild, BRT Glow, Jouvert Breakfast Party, & BRT ALL White Grand Finale! We'll provide Free Drinks & Food at each of these events. Also enjoy extra bonus benefits at the additional events associated with our weekend.
VIP Weekend Pass Benefits:
Your VIP Weekend Pass will give you access to all VIP sections for the main events throughout the weekend. You'll get to skip all lines for the main 6 events + Your VIP ticket also includes premium all-inclusive drinks & food at each of the 6 main events.
VIP Ticket Upgrades:
VIP ticket upgrade options are not available in advance & are not guaranteed to be available at the event. If they are, they may be in the range of $150-200 for each upgrade.
VIP Day Pass:
VIP Day Passes do not exist. If you'd like to be in VIP, please purchase a VIP Weekend Pass.
Recommended Airport:
(MIA) Miami International Airport: 2100 NW 42nd Ave, Miami, FL 33126
(FLL) Fort Lauderdale Hollywood International Airport: 100 Terminal Dr, Ft Lauderdale, FL 33315
Hotels & Flights:
Everyone is responsible for booking their own hotel, flight, and transportation as they are not included in your BRT Weekend ticket. Recommend locations coming soon!
Event Age Restrictions:
18 to party | 21 + to drink.
Event Ticket Refunds, Transfers, Cancellations, & Event Policy:
All sales are final & non-transferable. Purchaser agrees that there are no refunds nor exchanges once ticket is purchased. Locations, venues, dates, & times for each event are subject to change at any time by event organizer.
Event Themes & Attire:
Each event has it's own unique theme. Please save our event schedule and dress to match the theme at your own discretion. Most events take place on the sand, so feel free to dress in beach attire.
Food Menu:
The food menu will be different for each event and will consist of a variety of different dishes from the Caribbean & U.S.
- Formerly, BRT Weekend FL Keys
For more information, please visit brtweekend.com or call us anytime (954) 805-4544.