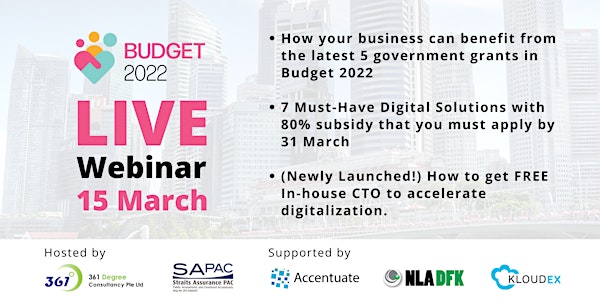 Budget 2022 Live Webinar
Budget 2022 Live Webinar
About this event
Join us for an exclusive webinar to explore the highlights from Budget 2022 and how you could benefit as a local business!
1. How your business can benefit from the latest government grants in Budget 2022.
2. 7 Must-Have Digital Solutions with 80% subsidy that you must apply by 31 March.
3. (Newly Launched!) How to get FREE In-house CTO to accelerate digitalization.
Who should join: Business Owners of SMEs/Startups, anyone else who are interested to learn how they can tap on government grants and ways to automate their businesses.
Venue: Live on Zoom
Date: Tuesday, 15 March, 3 to 4:30 pm
Admission: Free
All attendees will receive a mystery gift worth $90.
This webinar is co-hosted by 361 Degree Consultancy & Straits Assurance PAC. Supported by NLA DFK, Accentuate & Kloudex.