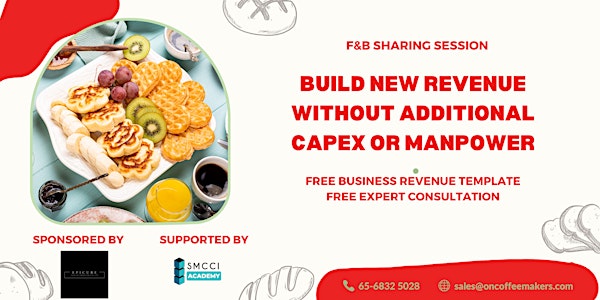 Build up multiple F&B revenue streams without additional CAPEX or manpower
In this F&B Revenue Sharing Session: Learn how to build multiple revenue streams without additional CAPEX or manpower from experts.
About this event
The good news: Singapore F&B is finally running their business at full capacity. The bad news: challenges abound for all businesses amidst the gloomy economic situation.
**Limited Complimentary Tickets Code: epicure0622 (first 30 participants).
Current F&B Challenges
Reliance on Single Revenue Stream
Over-Reliance on manpower
Products restricted by outlet capacity
Limited options to reach out to NTB (New To Business)
This session takes a departure from the current F&B market outlook to give all F&B business owners insights on how successful brands grow their business even in the midst of COVID!
Key Takeaways from this session
How to grow more revenue stream (without incurring additional CAPEX)
How to grow your F&B business by streamlining your manpower
How to fulfil all orders and more with your current capacity
How to get more people to know about your products and brand (NTB).
Learn from the experts
A panel of experts that have consulted and assisted F&B brands in growing their business without extensive investment in CAPEX or even manpower (e.g. Subway).
Expert Speakers
Mr Jeffrey from Epicure Choice Creation
How would it benefit my F&B Business?
You would get the following to have a new perspective of your business and re-imagined your value proposition to your current and new customers:
A 2 hour deep dive on insights the expert panels will be sharing from their extensive consultation with the many successful F&B brands.
A step by step guide to discovering, validating and creating new customers for your business.
A personalized coaching session from the expert panels to actualise the plan that you have to start growing your revenue and customers.
Who should join this session:
F&B Business owners/operators:
Who find it hard to create more revenue streams.
Who is always stressed manpower?
Who wants to produce more but might not want to immediately invest in a Central kitchen
Who wants to find out if there are other places or ways to sell your products in a sustainable manner.
This event is Organised and Sponsored by Food Evolution by Epicure Choice Creations
This event is Marketed by OCM (OnCoffeeMakers)
This event is supported by SMCCI
SMCCI Academy is the go-to centre for business excellence. We train entrepreneurs and individuals through a stratified syllabus with the aim to transform them into high potential businesses or future-ready employees.