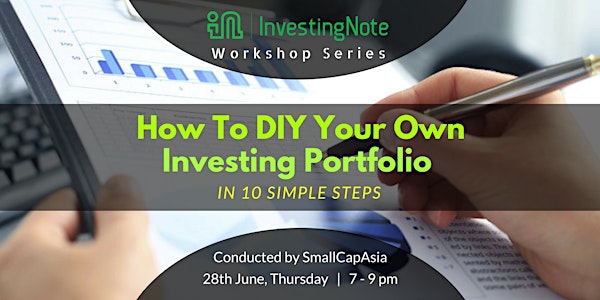 Build your DIY investing portfolio using 10 Simple Steps
When and where
Location
City Index 6 Battery Road #20-01 Singapore, 049909 Singapore
Description
Serious investing requires the investor to do his homework.
Every piece of homework done needs to follow a structure. Like the great Benjamin Graham and Warren Buffet, great investors always have a plan.
Like the saying goes..."Failing to plan, is planning to fail."
This is the workshop that teaches you how to plan your portfolio, by first creating the most crucial part of the plan: the checklist.
Whether you're a totally newbie or an experienced investor, having a solid investing checklist is necessary because it will set the criteria, tone and structure to pick the best stocks and also manage the worse threat faced by investors when it happens - Fear.
In this session, we will share with you how you should build your own portfolio using this 10-step checklist:
1) What to Buy
Stop all your Guesswork! Learn to Filter for Stocks based on a Pre-Set list of Criteria or Hypothesis instead.
2) When to Buy
One simply should not Buy a Stock based on its Share Price (E.g. 52 week Low etc) One should buy a stock when it meets the Right Criteria.
3) At What Price
Market Price offers 'Margin of Safety' compared to Intrinsic Value (e.g. PEG <= 0.7). We shall go through 2 stocks using PEG and DCF models here.
4) How Much to Buy
This question entails to how much you should put in each investment out of your capital. Unravelling the Time-based or Risk Tolerance approaches.
5) Monitoring Your Holdings
Monitoring your portfolio can be a time-waster. Learn how to do it for a fraction of the time with resources.
6) When to Sell
Contrary to Warren Buffett's Buy-and-Hold approach, he does sell off stocks that no longer meet his criteria or hypothesis. So should You. I will tell you which criteria should trigger your "sell" decision.
7) Portfolio Structure
Do you prefer Focus or Diversified Investing? Find out their difference and how you should package your portfolio. E.g. 90% Stocks, 10% Cash; Diversified across various industries.
8) Where to Search
Finding Good Stock Picks can be a pain with the Incessant Media noises out there. We will showcase a few avenues you can search for them.
9) Handling Mistakes
Everyone make mistakes, even legendary investors. You will learn how to face the common challenges and recover from mistakes in your investing journey.
10) What To Do When System Fails
If you continue to invest for years and have never seen a positive gain in your portfolio, chances are that your 'system' has failed. Stop Investing and do an overhaul of your Investing Strategy or consult mentors.
These are 10 steps briefly that will help you to have a DIY portfolio. This workshop will go into depth and explain each step as simple and as clear as possible.
Ask questions and engage with James in an open discussion during the Q&A session.
Who should attend this workshop?
This is a workshop for beginner or intermediate traders/investors who've always wanted to know how to use invest like an analyst, create a better portfolio and make better investing decisions.
Why should you attend?
See which criteria analysts use while picking stocks
Create your own checklist with 10 simple but very important criteria
Use this checklist to improve your investing acumen
Learn it from an independent analyst
Network with James and other attendees
Mark your calendars for 28th June, Thursday. Registration starts at 6.30pm. Mingle and network with James, along with other fellow users after the workshop.

No refreshments provided. Strictly limited seats only.
---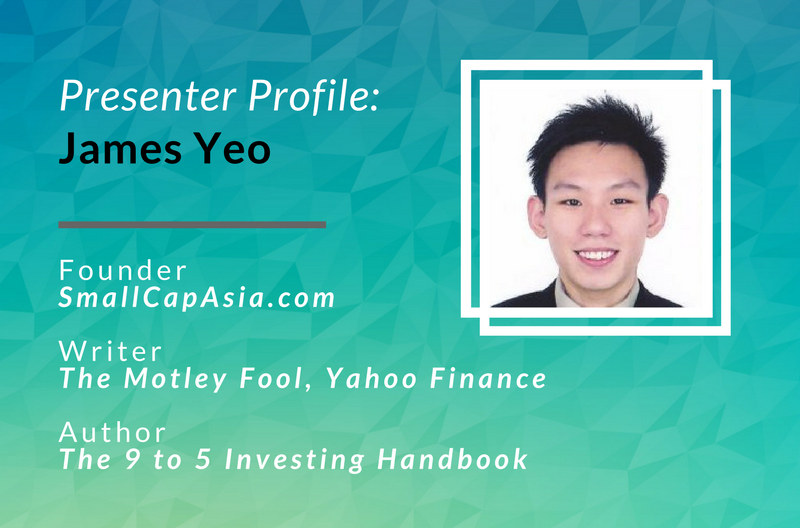 James is the founder of SmallCapAsia.com. He is an avid growth investor since 2007 and has chalked up more than 10 years of experience with a decent track record.
James started his investing journey since his army days and had made countless mistakes along the way. His turning point came when he got on board Motley Fool Singapore as a writer and joined a group of like-minded investors. It was also during that time where he learnt the great works of successful investors such as Warren Buffett, Peter Lynch, Sir John Templeton, and more.
In addition, James is also a ex-columnist for the Yahoo Finance and The Motley Fool where he regularly talks about hidden gems with tremendous growth potential. Having chalked up more than 10 years of investing experience and a decent track record, he aims to provide the essential research, tools and analysis for you to build your net worth faster. One exemplary case is his latest book titled - "The 9 to 5 Investing Handbook" where it uncovers the secrets on how to pick winning reits and stocks.
Lastly, when he's not busy with analysing quarterly reports and working on his website, he can be found chilling out with his family in the malls but still always on a lookout for new investment opportunities.
He is also the provider behind the service Top Stocks Under $2.