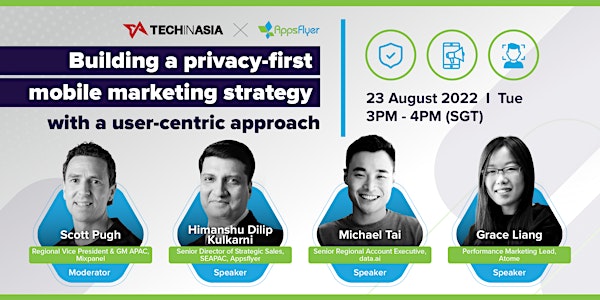 Building a privacy-first mobile marketing strategy
Learn more about privacy-first mobile marketing strategy with a user-centric approach
About this event
As technology evolves, consumer demands and regulations around data privacy change in step. Apple's introduction of iOS 14 and ATT framework signals creating privacy-first strategies is what it will take to succeed long-term. Marketers across industries need to learn how to prioritize transparency, and trust as they engage users.
A Data Clean Room (DCR) bridges these gaps with its privacy enhancing technologies by allowing marketers to efficiently navigate regulatory hurdles when interacting and collaborating on shared data sets. However, DCRs are not without limitations, which include costs, advertisers being unwilling to share sensitive data, and the absence of a standardized universal format.
Its merits bring a wide range of DCR solutions, and finding one that fits the business is key. This means having access to tools that enhance user-level experience, functionalities that deliver actionable insights, and the ability for data personalization. All this to enable successful business outcomes while maintaining user-level privacy.
Join us on August 23, 2022, as our speakers unpack:
The current mobile advertising and marketing landscape looks like, and
Share insights on tools marketers can employ to successfully navigate a privacy-first world.
Speakers:
Himanshu Dilip Kulkarni, Senior Director of Strategic Sales, SEAPAC
Michael Tai, Senior Regional Account Executive, data.ai
Grace Liang, Performance Marketing Lead, Atome
Scott Pugh, Regional Vice President & GM APAC, Mixpanel (Moderator)
Who should attend:
If you're currently working as one of the following profiles—this event is definitely for you:
Business Owners (Founder, Co-founder)
Decision Makers/Influencer/Evaluator (CEO, CMO, CXO, Founders, Managing Partner, President, Director, Principal, Manager, Regional Head, VP/Head of---, etc.)
Professionals working in companies with mobile application
Professionals in Marketing (Digital marketing manager, Digital Marketing Specialist, Online campaign manager, Mobile marketing manager, User acquisition manager, Performance marketing manager, App marketing manager, Individuals from companies with mobile application etc.)
About Tech in Asia
Tech in Asia (TIA) is the largest English-language technology media company that focuses on Asia. From the latest news and hottest trends to the boldest start-ups and strongest titans, TIA covers everything tech in the region. The company aims to build Asia's tech and start-up community by bridging the gap between businesses and the information, talent, and connections they need.
About AppsFlyer
AppsFlyer is the global leader in marketing measurement, analytics, and engagement that enables developers, businesses, and marketing agencies to build great products, create exceptional experiences, and preserve customer privacy. We built a platform based on four key principles which are start with privacy as a given, provide unmatched, trusted insights, take a customer-obsessed approach and, create technologies that enable innovation