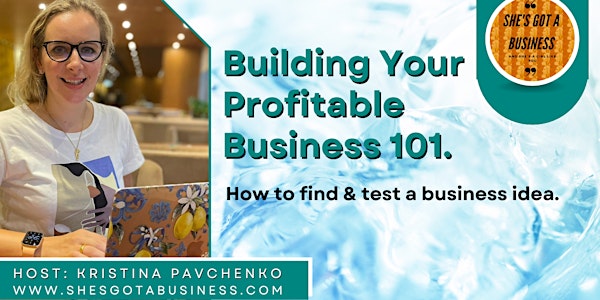 Building Your Profitable Business 101.How to find & test a business idea
The goal of this webinar is to introduce you to the powerful system to create, validate and improve your business idea and business model.
Refund Policy
Contact the organizer to request a refund.
Eventbrite's fee is nonrefundable.
About this event
This webinar is designed for individuals who are willing to become entrepreneurs or start growing their businesses.
The webinar will provide an actionable step-by-step guide on what to do when you want to validate a business idea or start growing your business.
The topics discussed can help determine what to re-visit when your business in wobbling and not performing as you desire.
In this workshop you will learn
1. How to find RIGHT business idea.
2.How to do simple marketing research. This step alone can save you years of disappointment and thousands of dollars.
3. How to create a profitable business - basics of CUSTOMER CENTRIC APPROACH.
4. Basics of business model - how your business will make money : new age business.
5. New business validation formula.
This workshop is designed based on the best business courses and practices for SME's, lessons learned from working with over 100 female entrepreneurs, 2 master's degrees and 4 business courses from leading academies.
This workshop is intense , but in the end you will do a task to honestly and smartly validate your business idea.
Main takeaway from the workshop - a clear step-by-step guide how to evaluate and fine tune your business idea.
You will get access to the webinar immediately after purchasing your ticket.
About the speaker:
Kristina Pavchenko is the founder of She's Got a Business, a business consultancy and marketing agency that helps female-led SME's to start and grow. The core concept for the company was inspired by amazing women and the company also works as a vibrant community supporting women to succeed in business and life. Now, She's Got a Business has touched lives and businesses of over 100 female entrepreneurs.
Kristina has a Master's Degree in Law and started her corporate career in 2007, she also pursued a Master's Degree in International Economics. Her passion – building communities, working with people, helping them to improve their lives and business. Today, Kristina coaches entrepreneurs to start and develop a successful business that they love.