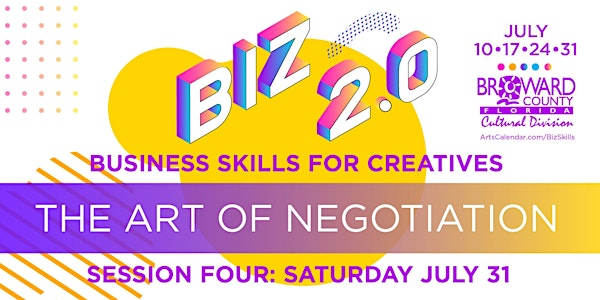 Business Skills for Creatives: The Art of Negotiation
Broward Cultural Division returns with Business Skills for Creatives, a free online series for artists.
About this event
Broward Cultural Division's award-winning series for artists is back with all-new workshops. On Saturdays at 10:30AM, learn from industry professionals how to turn your creativity into a successful business in Business Skills for Creatives 2.0.
Session 4: The Art of Negotiation
In this workshop, attorney Jessica Lee of Loeb & Loeb LLP will help participants master the art of negotiation. Working through the negotiation process, you will acquire a framework, tools, techniques, and skills to solve problems and negotiate in different situations, both professionally and personally.
The session will cover:
The skills of listening, communicating, and persuading during a negotiation
How to determine bargaining power
Ethics of negotiation
The role of culture, gender, and race in negotiation
Digital product protection within the artist community
RSVP for this session and receive the recording and materials after the livestream. To learn more about Business Skills for Creatives and watch previous sessions, click here.
About the speaker:
Jessica Lee named one of Crain's Notable Women in Law. She helps companies launch, market and monetize their digital products and content and advises on everything from advertising, data analytics, location-based tracking, smart devices and wearables, to the use of emerging technologies, such as artificial intelligence, VR and AR, and facial recognition.
Jessica is routinely called upon to speak on the privacy and cybersecurity concerns in advertising, media, adtech, and health tech. She recently testified before the California Senate Judiciary Committee on the impacts of privacy regulation on the business community.
About Business Skills for Creatives 2.0:
Business Skills for Creatives 2.0 is the follow-up to Broward Cultural Division's Business Skills for the Modern Creator, developed in the summer of 2020 in response to the COVID-19 pandemic.
Attendance to all sessions is not required, and there is no prerequisite for each session. However, each lesson is unique and valuable to artists in all fields, and we recommend that you watch all the courses provided last year for your benefit. You can view the full series here.
This summer, the Courses will stream live on @BrowardArts Facebook and @BrowardArts YouTube on the following Saturdays from 10:30AM – noon.
July 10: Applying for Grant Funding as an Artist
July 17: Financial Strategies Post-Pandemic
July 24: Creative Placemaking for Stronger Community
July 31: The Art of Negotiation
About Broward Cultural Division
The Broward Cultural Division advances arts and culture throughout greater Fort Lauderdale by investing in the creative sector and providing capacity building opportunities for artists, organizations and creative talent through events and activities that fuel Broward's creative infrastructure. The Cultural Division includes the county's Public Art & Design program, as well as grant programs that provide over $4.5 in annual support for Broward-based cultural organizations and artists, and engages the community in education and advocacy initiatives that support arts education at the local, state and federal levels. For more information on programs, grants, calls-to-artists and more, visit @BrowardArts on Facebook or Instagram or visit Broward.org/Arts.