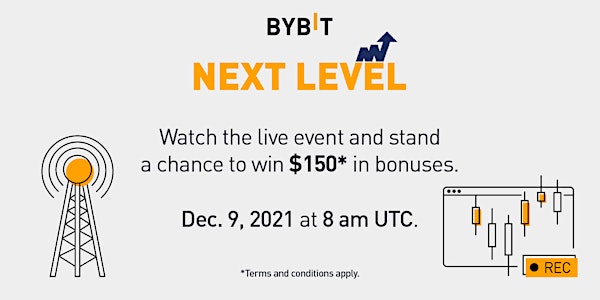 Bybit Next Level 2021 — Delivering the Best Trading Platform
Tune in to "Bybit Next Level" — our very own live event — at 8AM UTC on Dec. 9, 2021, for a chance to win up to $150 in bonuses!
About this event
Join us at "Bybit Next Level", our very own live event, happening at 8AM UTC on Dec. 9, 2021!
2021 has been a huge breakout year for the world of digital assets, not just in terms of its performance but also in its adoption. The booming market is now worth more than $3 trillion! So what's next?
Our CEO, Ben Zhou, will take you on a journey of Bybit's key 2021 moments and all the exciting new products and services we revealed in the past months (there were a lot of them!). As we continue to listen, care, and improve, Bybit is looking forward to bringing your crypto trading experience to a whole new level in 2022. You definitely won't want to miss what we have in store for you!
Tune in to catch our updates and stand a chance to win from our $225K bonus giveaway*.
Here's how you can snag a piece of the bonus pie:
1. Head to bybit.com
2. Click on the orange sign up button on the top right hand corner of the page
3. Fill in your email and password to register
4. Look out for the exclusive bonus code in the chatbox or watch for the code reveal on screen.
Remember, you can only redeem your bonus if you are registered on Bybit!
*Terms and conditions apply.