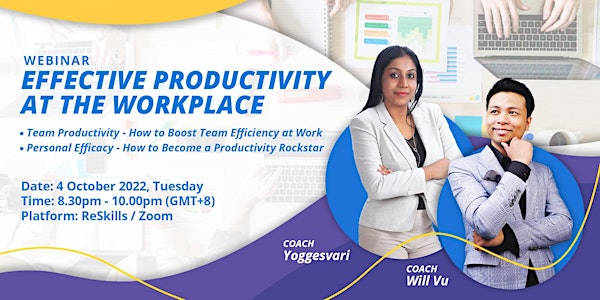 Career Webinar | Effective Productivity At The Workplace
Are you always busy, but can't figure out what you're busy with? Understand how to manage your time wisely and enhance productivity here!
About this event
"Don't confuse activity with productivity. Many people are simply busy being busy." ~ Robin Sharma
Are you someone who's always busy, but never know what is taking up your time? Or do you have clear goals and intentions, and allocate your time appropriately amongst your projects?
As Tim Ferriss, author of bestselling book "The 4-Hour Workweek", said, we should focus on being productive instead of being busy. As an individual, how can you manage your time wisely to achieve maximum output during work hours? If you're a manager, how do you ensure that your team can reach maximum potential by improving efficiency and productivity?
Join our webinar with productivity experts Coach Yoggesvari and Coach Will to understand how to enhance your personal and team productivity in work settings. In this webinar, you'll learn:
The definition of workplace productivity
How to boost team productivity at work
Methods and tools for measuring productivity
Common challenges/disruptors of workplace productivity and how to overcome them
Register now to save your spot!