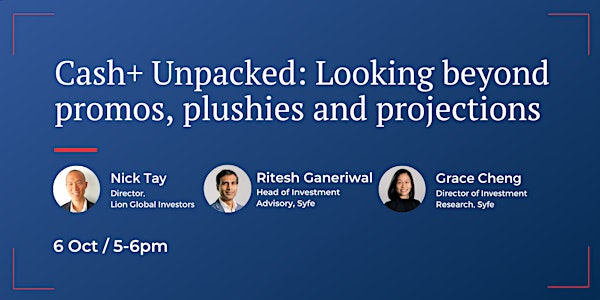 Cash+ Unpacked: Looking beyond promos, plushies and projections
Learn more about Syfe's cash management product
About this event
Singapore's core inflation rose at the fastest pace in a decade. Coupled with recent market volatility, everyone is looking for a safe yet efficient place to store their funds. As an alternative to keeping your cash in fixed deposits and savings accounts, in this week's session, we will be going through:
What is a money market fund and how does it work
The mechanics behind Syfe's Cash+ portfolio, and discussing how it can be used in your portfolio during these times
How does Cash+ compare with all the other cash management portfolios in the market, SSB, and Fixed deposits
Understanding how are projected yields calculated and what is the underlying trade-off for higher projections
Join us for this week's session, together with Nick Tay from Lion Global, where we will be taking a deep dive into Cash+, revealing how we built it and uncovering the rationale behind it.