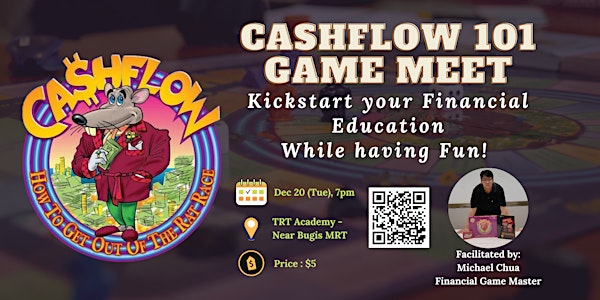 CashFlow Game Meet
Learn personal finance through a boardgame
Date and time
Tue, 20 Dec 2022 19:00 - 22:00 +08
Location
TRT Academy 5 Purvis Street ##02-07 Singapore, 188584 Singapore
About this event
For many of us, this period has been about learning to take the next step. You can read books about finance or listen to podcasts or watch YouTube videos on money management… but the best way to learn it is to do it, but may hurt if we do it for real. Sometimes, ALOT.
The next best way is to play it in simulation.
TRT will be holding a Cashflow Game meetup so that participants can experience how money management works in simulation. The Cashflow game is a game designed by self-help author Robert Kiyosaki to serve as a learning tool for learning basic financial strategies and accounting principles.
In this event, you can test your financial knowledge and learn from your mistakes—all without losing your own money.
For beginners, this will serve as a fun way to kickstart their Financial Education. They first learn to balance the basic concepts of Income, Expense, Assets and Liabilities. As the game proceeds, they, together with other players, experience how to deal with each financial scenario they encounter with the cards they might draw.
To simulate even more realism, the Game Master will be injecting real-life scenarios that are happening in the world. Such scenarios will test the participants' relationship with money and often involves having the players think out of the box. It is through experiencing such scenarios that players will gain the most from their time spent in this session. Even experienced players will be able to test out what they have understood from their previous experiences from previous game plays.
Facilitated by Michael TRT trainer and Financial Game Master, the real strength of this meet is such that each player will receive feedback at the end of the session so that they understand what has happened and draw out lessons to be learned during the session, so that they can gain clarity over what actions they should take next.
If you are keen to put your financial knowledge to the test, join us and have fun while doing it.
As the game will start once there's enough players, non RSVP and late participants may be rejected. Do sign up and arrive early to avoid disappointment.
A $5 admin fee will be collected at the door.
https://www.traders.sg/cashflow-game-101/
michael@traders.sg
Learn Life through Gaming
About the organiser
TRT Academy was founded by Thomas SAW in 2009 to provide a community environment for aspiring traders to receive good-quality education, peer support from other fellow traders, and coaching from successful practing traders.
As practicing traders, we are making our money from trading. Not from providing trading education.
We collect a fee from you for attending our Premium Programmes, as a gesture to ensure that you are really committed to attending and learning. Your fee is a contribution towards the operational expenses to maintain the facility and the infrastructure for all your LIVE Market Learning sessions. And our post-course Continuous Learning Support will ensure that your skillset is always kept updated with the changing market conditions.
As practicing traders, we strongly advocate that trading is a skillset best learnt by hands-on practice, practice and more practice to achieve mastery. The best learning environment for practicing trading skills is the dynamic conditions of real markets. As such, 80% of all our education programmes are LIVE Market Learning sessions, conducted during regular UK and US trading hours. And we intentionally maintain small class size, so that you will receive all the personal attention you deserve and need to excel in your learning.