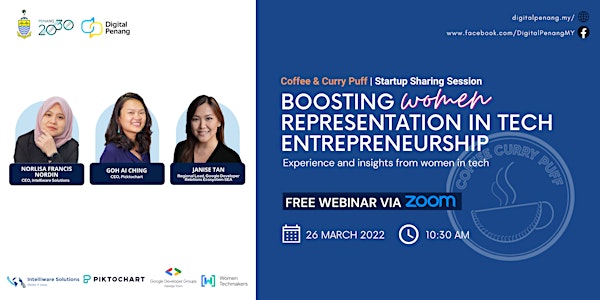 [CCP] Boosting Female Representation In Tech Entrepreneurship
Success stories, insights and tips from women in technopreneurship navigating the tech industry in Malaysia
About this event
Digital Penang celebrates International Women's Month🌹 with two female pioneers that have made a place for themselves in the tech sector, Goh Ai Ching, CEO of Piktochart, Norlisa Francis Nordin, CEO of Intelliware solutions and Janise Tan, Regional Lead, Google Developer Relations Ecosystem SEA where we will discuss about their experience, insights and bunch of other exciting tips to navigate the tech industry as a women.
About the speakers:
Ai Ching Goh,
Ai Ching Goh co-founded Piktochart, a web app offering users without intensive graphic design experience to easily create professional-grade visuals using themed templates.
As CEO, Ching oversees a number of areas at Piktochart and takes an unconventional approach to startup growth. She goes against the grain of what the startup world teaches passionate entrepreneurs in areas including bootstrapping, talent management and culture "shaping."
Norlisa Francis Nordin
Norlisa is the CEO of Intelliware Solutions, known as IS, a company that is engaged in the business of information technology company that provide technology solutions and consultancies related to IT or development on developing mobile apps, web application and software system based on technologies: Blockchain, Artificial intelligence, internet of things, augmented reality and big data
Norlisa brings with her experience of more than 20 years in EMS, Semiconductor, Fabrications, LED development, Cognitive Engineering, and Blockchain Technology, putting her in good stead to develop intelliware solutions as a complete application and system development company that serve all market.
Janise Tan
Janise leads Google's developer relations in Southeast Asia, helping developers upskill, build better, and succeed with Google. She is passionate about building a more diverse and inclusive tech industry, and actively drives women in tech empowerment programs and initiatives that raise up diverse leaders and role models.