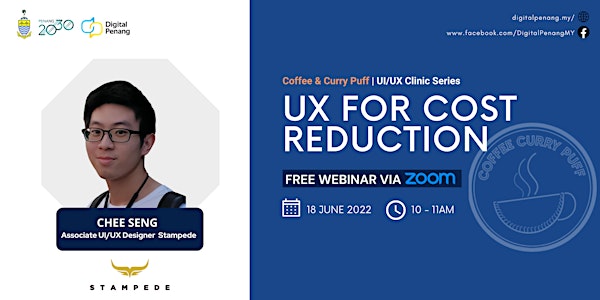 [CCP] UX For Cost Reduction
Find out how including UX in the product building process for a business can help to identify costs to reduce and reveal more opportunities
About this event
Managing cost in a business is tricky and it will be more so if you are also trying to create a product that the user needs and likes while maintaining positive cash flow.
Chee Seng from Stampede Design will be sharing how doing UX early in the business can help businesses identify costs to reduce.
About the speaker:
Chee Seng is a UI/UX designer with experience working in multiple fields such as education, cloud technology, healthcare, etc. Chee Seng ia also an active community builder who helped built the tech and design community in Malaysia through various events and meetups.
About Stampede:
Founded in 2006, Stampede is a user experience and digital product development agency in Malaysia. They design user-centred experience and build digital products for clients all over the world.https://stampede-design.com
To find out more about Digital Penang initiatives and follow us:
Facebook - https://m.facebook.com/digitalpenang.my
Instagram - https://www.instagram.com/DigitalPenangMY/