Multiple Dates
CCPG - Week of Prayer for Christian Unity 2022
Event for vaccinated persons
About this event
CCPG - Week of Prayer for Christian Unity 2022
21 January 2022, Friday | 8 pm - 9:45 pm
You are invited to join us for a time of prayer...
It was on our Lord Jesus' heart to pray for unity in his "High Priestly Prayer" for the disciples recorded for us in John 17:20-23. Mindful of this, a Week of Prayer for Christian Unity (WPCU) has been set aside since 1908 for churches and Christian communities across the world to join together in prayer.
In line with this, we'll be using the WPCU order of service to host a prayer service for Christian Unity on 21 Jan 2022 (Fri) at 8pm. This will be held in conjunction with other Christian churches and organisations in Singapore and will also be open to other Christians to join in, even as we also pray for unity in SJSM.
The WPCU Theme for 2022 is "We saw the star in the East, and we came to worship him" based on the assigned Scripture text in Matthew 2:1-12.
IMPORTANT: Please book your tickets according to the color zones as indicated in diagram below:
BLUE zone (level 2)– for SJSMers registration.
GREEN zone (level 2) – for SJSMers registration.
PINK zone (level 3)– for public registration.
YELLOW zone (level 3) - for public registration.
Event is held in Christ Sanctuary, level 2 and 3
Please visit our website for information on the service safe management measures.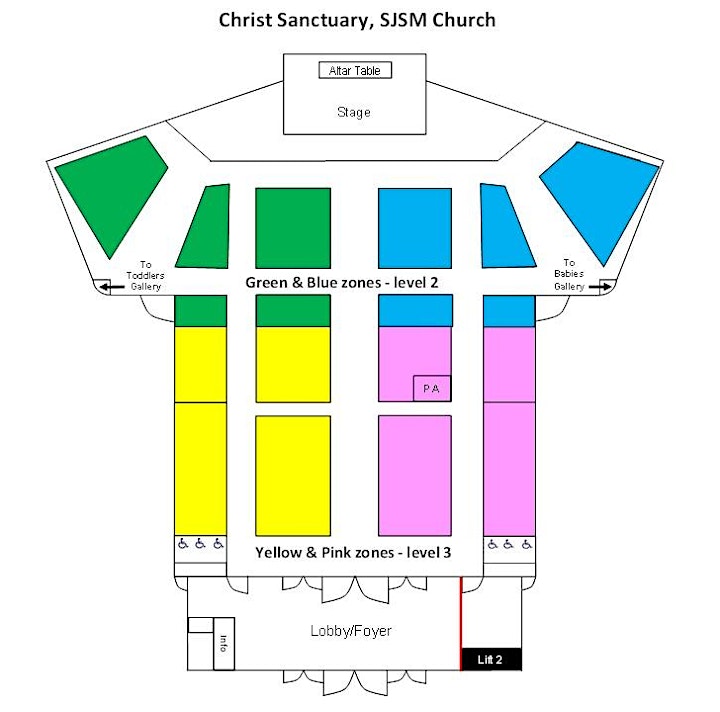 Organiser of CCPG - Week of Prayer for Christian Unity 2022