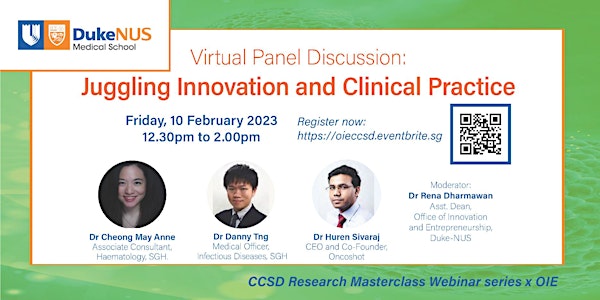 CCSD Masterclass Webinar x OIE: Juggling Innovation and Clinical Practice
CCSD Research Masterclass Webinar x Office of Innovation & Entrepreneurship: Juggling Innovation and Clinical Practice
By Centre for Clinician-Scientist Development
Date and time
Thu, 9 Feb 2023 20:30 - 22:00 PST
About this event
You are invited to a Virtual Panel Discussion on Juggling Innovation and Clinical Practice. This event is jointly organised by Duke-NUS' Office of Innovation & Entrepreneurship (OIE) and the Centre for Clinician-Scientist Development's Research Masterclass Webinar series.
Aspiring and junior clinicians, medical students and researchers who are interested in a journey involving innovation are especially encouraged to attend.
The panel features 3 clinicians who have incorporated innovation in their practice:
Dr Cheong May Anne, Associate Consultant, Haematology, SGH. Dr Cheong has a special interest in the treatment of bleeding and clotting disorders. To complement her clinical work, Dr Cheong is also involved in many healthcare innovation initiatives and started the Singhealth Hackathon series to support ground up projects. She is also a Singapore Biodesign Innovation Fellow.
Dr Danny Tng, PGY4 Medical Officer, Infectious Diseases, SGH. Dr Tng concurrently holds a joint adjunct research fellow appointment at Duke-NUS Programme in Emerging Infectious Diseases. He has published widely in the field of nanomedicines and has 2 patent applications on biomarker detection. He is highly passionate in translational research and is currently working on translational vaccine and diagnostic technologies.
Dr Huren Sivaraj, CEO and Co-Founder, Oncoshot. Oncoshot is a first-in-class real-time aggregated insights sharing marketplace for clinical research stakeholders to plan and manage cancer trials. Dr Huren's understanding of the challenges faced by physicians in searching for suitable clinical trials, combined with his interest in machine learning application, led to the formation of Oncoshot in 2018. He is also a Visiting Consultant in the Division of Medical Oncology at NCCS.
Moderator: Dr Rena Dharmawan, Assistant Dean, OIE, Duke-NUS. Dr Rena is also Consultant, Surgery & Surgical Oncology, NCCS.
All in SingHealth/Duke-NUS are welcome. The webinar will be held via Zoom. The Zoom link will be emailed to all registered attendees one day before the event. For enquiries, please email angietan@duke-nus.edu.sg.
About OIE: The Office of Innovation and Entrepreneurship primarily oversees and manages the intellectual property (IP) generated by all researchers and staff at Duke-NUS and works to ensure optimal commercial outcomes for all Duke-NUS inventions. We promote commercialisation, providing project review and advisory on IP strategy development, by advancing industry-academic collaborations and promoting innovation education within Duke-NUS. Our department fosters a culture of entrepreneurship by facilitating appropriate connections between organisations, technologies and people for translation of Duke-NUS innovations. Contact us: oie@duke-nus.edu.sg. Website: https://www.duke-nus.edu.sg/cted
About the organiser
The Centre for Clinician-Scientist Development supports the research pillar of academic medicine in the SingHealth Duke-NUS Academic Medical Centre by nurturing passionate and talented clinician-researchers. The Centre provides career advisory and structured training through different programmes tailored for the various stages of clinician-researchers' careers, spanning from graduating Duke-NUS students to mid-career clinician-researchers. 
Visit our website to find out more about our programmes: https://www.duke-nus.edu.sg/ccsd
Join our mailing list to receive our announcements: email angietan@duke-nus.edu.sg