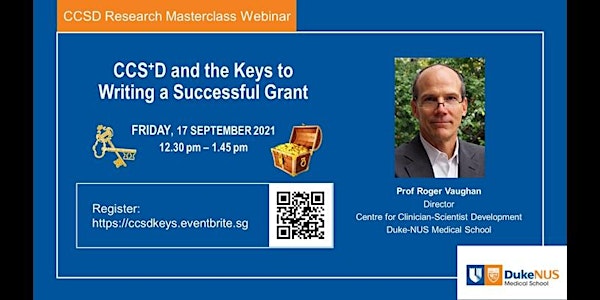 CCSD Research Masterclass: CCS+D and the Keys to Writing a Successful Grant
CCSD Research Masterclass Webinar: CCS+D and the Keys to Writing a Successful Grant by Prof Roger Vaughan
About this event
You are invited to the next CCSD Research Masterclass Webinar for clinician-researchers, CCS+D and the Keys to Writing a Successful Grant by Prof Roger Vaughan. Prof Vaughan will provide an overview of the keys to success in writing grant proposals. He will also share on the mission and goals of CCS+D, and the support available to SingHealth clinician-researchers. Aspiring and junior clinician-researchers are especially encouraged to attend.
Prof Vaughan is the Director of the Centre for Clinician-Scientist Development of Duke-NUS, which nurtures and supports clinician-researchers by providing guidance and training to our budding clinician-researchers to develop their research careers, spanning from graduating Duke-NUS students to consultants across the SingHealth Duke-NUS Academic Medical Centre. He is also the Director of the Centre for Quantitative Medicine of Duke-NUS and Associate Dean in the Office of Research of Duke-NUS.
All in SingHealth/Duke-NUS are welcome. The webinar will be held via Zoom. The Zoom link will be emailed to all registered attendees one day before the event. For enquiries, please email angietan@duke-nus.edu.sg.