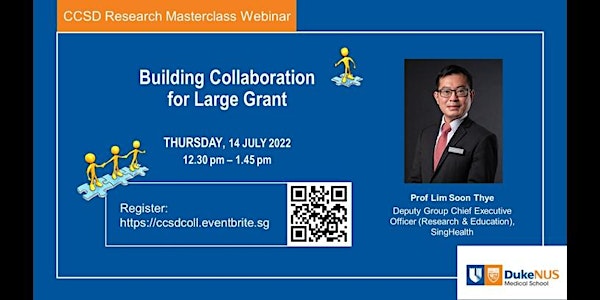 CCSD Research Masterclass Webinar: Building Collaboration for Large Grant
CCSD Research Masterclass Webinar: Building Collaboration for Large Grant by Prof Lim Soon Thye
By Centre for Clinician-Scientist Development
Date and time
Wed, 13 Jul 2022 21:30 - 22:45 PDT
About this event
You are invited to the next CCSD Research Masterclass Webinar for clinician-researchers, Building Collaboration for Large Grant by Prof Lim Soon Thye. Aspiring, junior and mid-career clinician-researchers are encouraged to attend.
Prof Lim is the co-founder of the Asian Lymphoma Study Group, which includes academic medical centres across Asia. His team leads the blood cancer genomics project at the International Cancer Genomics Consortium. Prof Lim's group has been successful in securing more than S$20 million of NMRC, industrial and philanthropic funding over the years. He is the Principal Lead Investigator of an NMRC Translational and Clinical Research Flagship Programme 2014-2019 and Large Collaborative Grant 2019-2024. He was part of an international interdisciplinary research team that won the prestigious American Association of Cancer Research Team Science Award 2018.
All in SingHealth/Duke-NUS are welcome. The webinar will be held via Zoom. The Zoom link will be emailed to all registered attendees one day before the event. For enquiries, please email angietan@duke-nus.edu.sg.
About the organiser
The Centre for Clinician-Scientist Development supports the research pillar of academic medicine in the SingHealth Duke-NUS Academic Medical Centre by nurturing passionate and talented clinician-researchers. The Centre provides career advisory and structured training through different programmes tailored for the various stages of clinician-researchers' careers, spanning from graduating Duke-NUS students to mid-career clinician-researchers. 
Visit our website to find out more about our programmes: https://www.duke-nus.edu.sg/ccsd
Join our mailing list to receive our announcements: email angietan@duke-nus.edu.sg