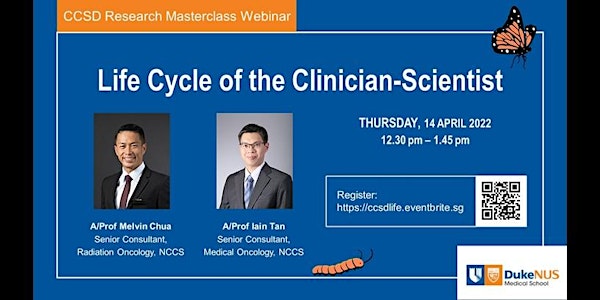 CCSD Research Masterclass Webinar: Life Cycle of the Clinician-Scientist
CCSD Research Masterclass Webinar: Life Cycle of the Clinician-Scientist by A/Prof Melvin Chua & A/Prof Iain Tan
About this event
You are invited to the next CCSD Research Masterclass Webinar for clinician-researchers, Life Cycle of the Clinician-Scientist by A/Prof Melvin Chua & A/Prof Iain Tan. Aspiring and junior clinician-researchers are especially encouraged to attend.
A/Prof Melvin Chua is a Senior Consultant in the Division of Radiation Oncology at NCCS and Principal Investigator of the Tan Chin Tuan Laboratory of Optical Imaging, Photodynamic and Proton Beam Therapy – Precision Radiation Oncology Programme. His research is focused on discovery and translational cancer genomics, and the development of biomarker-directed clinical trials in nasopharyngeal and prostate cancers. His awards include the NMRC Clinician Scientist Award 2018.
A/Prof Iain Tan is a Senior Consultant Medical Oncologist, leading the colorectal cancer service in the Gastro-Intestinal Oncology Team at the Department of Medical Oncology, NCCS. Concurrently, he is a clinician scientist at Genome Institute of Singapore. His research focuses on metastases and drug resistance and immune-oncology in gastrointestinal cancers, with a special interest in non-invasive diagnostics and innovative early phase clinical trials. His awards include the NMRC Clinician Scientist Award 2015.
All in SingHealth/Duke-NUS are welcome. The webinar will be held via Zoom. The Zoom link will be emailed to all registered attendees one day before the event. For enquiries, please email angietan@duke-nus.edu.sg.