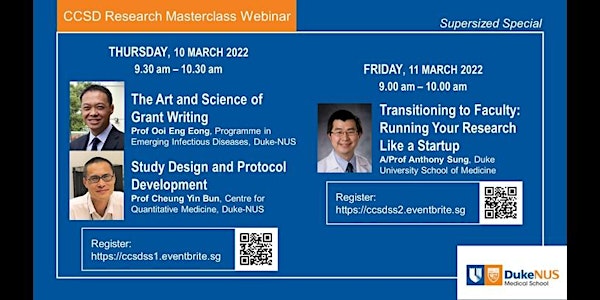 CCSD Research Masterclass Webinar: Supersized Special Part 2
[CCSD RMW: SS2] Transitioning to Faculty: Running Your Research Like a Startup by A/Prof Anthony Sung
About this event
CCSD Research Masterclass Webinar: Supersized Special Part 2
Transitioning to Faculty: Running Your Research Like a Startup by A/Prof Anthony Sung
The Supersized Special is organised in conjunction with the SingHealth Duke-NUS Research Skills Workshop 2022.
All in SingHealth/Duke-NUS are welcome. The webinar will be held via Zoom. The Zoom link will be emailed to all registered attendees one day before the event. For enquiries, please email angietan@duke-nus.edu.sg.
About the speaker:
Dr. Sung is an Associate Professor of Medicine, Division of Hematologic Malignancies and Cellular Therapy; an Associate Director of the Duke Microbiome Center; a Senior Fellow in the Duke Center for the Study of Aging and Human Development; and a Member of the Duke Cancer Institute; Duke University School of Medicine. As a hematopoietic stem cell transplant physician, his translational research program focuses on reducing transplant-related complications and improving survivorship through murine, phase 1, and phase 2 clinical trials. Areas of investigation include prebiotics and the microbiome; care delivery; exercise and behavioral interventions; mobile health applications; and accelerated aging after transplant. His work is funded by multiple institutes within the National Institutes of Health (NIH), including the National Cancer Institute (NCI), National Heart Lung and Blood Institute (NHLBI), National Institute on Aging (NIA), National Institute for Allergy and Infectious Diseases (NIAID), and National Center for Complementary and Integrative Health (NCCIH), along with several pharmaceutical partners and philanthropic foundations. He is also a member of the Food and Drug Administration Oncologic Drug Advisory Committee (FDA ODAC).