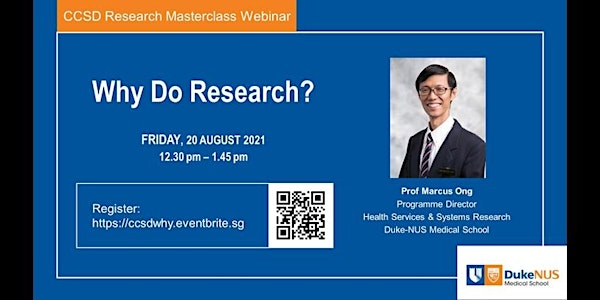 CCSD Research Masterclass Webinar: Why Do Research?
CCSD Research Masterclass Webinar: Why Do Research? by Prof Marcus Ong
By Centre for Clinician-Scientist Development
Date and time
Thu, 19 Aug 2021 21:30 - 22:45 PDT
About this event
You are invited to the next CCSD Research Masterclass Webinar for clinician-scientists, Why Do Research? by Prof Marcus Ong. Prof Ong will be sharing his personal journey as a clinician-scientist. He will also discuss the value and significance of Health Services & Systems Research in healthcare and biomed, and provide insights into career opportunities in this area. Aspiring and emerging Clinician-Scientists are especially encouraged to attend.
Prof Ong is the Director of the Programme in Health Services and Systems Research in Duke-NUS and Head of the Health Services Research Centre at SingHealth. As a clinician-scientist, Prof Ong has published more than 250 articles in international and local journals, and obtained more than S$47 million in research grants for his studies.
All in SingHealth/Duke-NUS are welcome. The webinar will be held via Zoom. The Zoom link will be emailed to all registered attendees one day before the event. For enquiries, please email angietan@duke-nus.edu.sg.
About the organiser
The Centre for Clinician-Scientist Development supports the research pillar of academic medicine in the SingHealth Duke-NUS Academic Medical Centre by nurturing passionate and talented clinician-researchers. The Centre provides career advisory and structured training through different programmes tailored for the various stages of clinician-researchers' careers, spanning from graduating Duke-NUS students to mid-career clinician-researchers. 
Visit our website to find out more about our programmes: https://www.duke-nus.edu.sg/ccsd
Join our mailing list to receive our announcements: drop an email to angietan@duke-nus.edu.sg