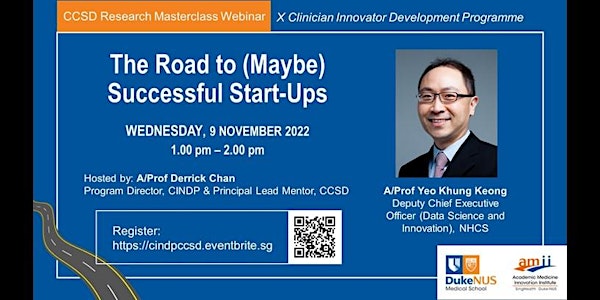 CCSD Research Masterclass x CINDP: The Road to (Maybe) Successful Start-Ups
CCSD Research Masterclass Webinar x CINDP: The Road to (Maybe) Successful Start-Ups by A/Prof Yeo Khung Keong
By Centre for Clinician-Scientist Development
Date and time
Tue, 8 Nov 2022 21:00 - 22:00 PST
About this event
You are invited to a webinar for clinician-researchers, The Road to (Maybe) Successful Start-Ups by A/Prof Yeo Khung Keong, a collaboration between Duke-NUS Academic Development Department's Clinician Innovator Development Programme (CINDP) and the Centre for Clinician-Scientist Development's Research Masterclass Webinar series. Aspiring and junior clinician-innovators are especially encouraged to attend.
A/Prof Yeo is the Deputy Chief Executive Officer (Data Science and Innovation) and a Senior Consultant with the Department of Cardiology at NHCS. He leads the MitraClip programme at NHCS, and his subspecialty interests are in interventional cardiology, structural heart disease, vascular medicine and peripheral arterial interventions.​​ In research work, he is the Principal Investigator of the SingCLOUD and SingHEART studies. A/Prof Yeo is also the Deputy Group Chief Medical Informatics Officer (Research) for SingHealth.
All in SingHealth/Duke-NUS are welcome. The webinar will be held via Zoom. The Zoom link will be emailed to all registered attendees one day before the event. For enquiries, please email angietan@duke-nus.edu.sg.
About the organiser
The Centre for Clinician-Scientist Development supports the research pillar of academic medicine in the SingHealth Duke-NUS Academic Medical Centre by nurturing passionate and talented clinician-researchers. The Centre provides career advisory and structured training through different programmes tailored for the various stages of clinician-researchers' careers, spanning from graduating Duke-NUS students to mid-career clinician-researchers. 
Visit our website to find out more about our programmes: https://www.duke-nus.edu.sg/ccsd
Join our mailing list to receive our announcements: email angietan@duke-nus.edu.sg