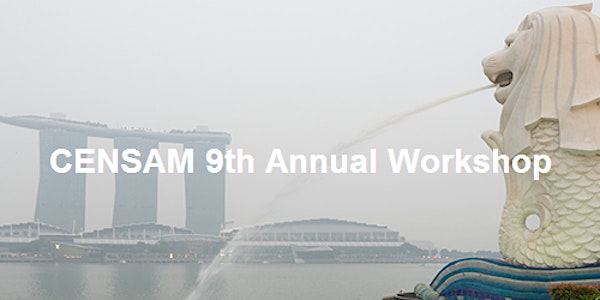 Center for Environmental Sensing and Modeling Workshop 2016
When and where
Location
SHAW FOUNDATION ALUMNI HOUSE National University of Singapore 11 Kent Ridge Drive 119244 Singapore
Description
ANNUAL WORKSHOP 2016
CENSAM 9th Annual Workshop

Organisers' message:anisers' message:

The Center for Environmental Sensing and Modeling (CENSAM) is pleased to invite you to its 9th Annual Workshop on Wednesday 22nd June 2016. In this year's programme, we explore three themes: Accomplishments, Innovations, and Visions. The day will end with a panel discussion.
The Accomplishments session will showcase projects funded by the CENSAM Research Initiative Programme (indicated with *), a new effort to encourage junior scientists to drive their own research activities. In addition, two MIT faculty will present keynote talks.
The Innovations session will explore the process of commercialising research. Dr Howard Califano (Director, SMART Innovation Centre) will present a keynote talk. Four shorter talks will introduce research that is contributing to the innovation ecosystem in Singapore, with potential global impact.
The Visions session will look forward to the future, outlining some bleeding edge research ideas. Speakers include three MIT faculty, alongside faculty from NTU and NUS.
A panel of lead researchers and faculty from MIT, NUS, Cambridge, and ETH Zurich will discusspathways for reducing outdoor temperatures and improving thermal comfort for a more livable Singapore. Before taking questions from the audience, panel members will summarize current local and international efforts to reduce urban temperatures by, for example, reducing heat sources or changing surface properties of buildings, outline needed research in Singapore, and examine opporturities to better assess and improve the thermal comfort of those engaged in outdoor activities
We look forward to your participation at CENSAM's 9th Annual Workshop. To register, please click the button below. Please do not hesitate to contact us if you require further information.
AGENDA 22 JUNE 2016, WEDNESDAY 08:30 - 09:00 Registration & Coffee 09:00 - 09:15 Welcome remark and opening address by Andrew Whittle, CENSAM Lead Principal Investigator and Edmund K. Turner Professor in Civil Engineering at Massachusetts Institute of Technology (MIT)
9:15 - 11:15
ACCOMPLISHMENTS - Session chair: Andrew Whittle (MIT)
9:15 - 9:35
Carbon and water fluxes in tropical peatlands: field experiments, ecological models, and remote sensing
by
Charles Harvey,
Professor, Department of Civil & Environmental Engineering, MIT
9:35 - 9:45
* Wind dispersal in Southeast Asian trees
by
Alex Cobb
,
Research Scientist, Singapore-MIT Alliance for Research & Technology – Center for Environmental Sensing & Modeling (SMART-CENSAM)
9:45 - 9:55
* Investigating the climate impacts of fires
by
Benjamin Grandey,
Research Scientist, SMART-CENSAM
9:55 - 10:05
* Norovirus aptasensor: an aptamer-based biosensing platform for environmental pathogen monitoring
by
Masaaki Kitajima,
Assistant Professor, Division of Environmental Engineering, Hokkaido University
10:05 - 10:15
* Seasonal study of selected trace metals, sources and bioavailability around Singapore: connecting natural and anthropogenic sources to regional scale distributions
by
Gonzalo Carrasco,
Postdoctoral Associate, SMART-CENSAM
10:15 - 10:45
Coffee Break & Poster Session (30 min)
10:45 - 10:55
* Affordable robust multi-domain drones for sensing
by
Tawfiq Taher,
Senior Research Manager, SMART-CENSAM
10:55 - 11:15
Robotics, sensing and Interpretation
by
Nicholas Patrikalakis,
Kawasaki Professor of Engineering, Department of Mechanical Engineering, MIT
11:15 - 12:30
INNOVATIONS - Session chair: Michael Triantafyllou (MIT)
11:15 - 11:30
Driving research to impact: adaptive Innovation™ approach
by
Howard Califano,
Director, SMART Innovation Centre
11:30 - 11:40
Visenti, taking innovation from lab to market place
by
Ami Preis,
Director & Co-Founder, Visenti Ltd.
11.40 - 11:50
From biological cilia to miniaturized flow sensor - a Nature-Inspired innovation
by
Ajay Kottapalli,
Research Scientist, SMART-CENSAM
11:50 - 12:00
Safe-guarding urban water with the holistic LEDIF technology
by
Kelvin Ng,
Research Scientist, SMART-CENSAM
12:00 - 12:15
Biomimetic and graphene chemical sensors for environmental monitoring
by
Jianmin Miao,
Associate Professor at School of Mechanical & Aerospace Engineering, Nanyang Technological University (NTU)
12:30 - 14:00
Lunch & Poster Session (1h30min)
14:00 - 15:30
VISIONS - Session chair: Chien Wang (MIT)
14:00 - 14:20
Significant Rice Crop Yield Reduction in Southern Vietnam due to Changing Climate
by
Liong Shie-Yui,
Deputy Director, Tropical Marine Science Institute (TMSI), National University of Singapore (NUS)
14:20 – 14:35
External influences on air quality in Singapore
by
Steven Barrett,
Associate Professor of Aeronautics and Astronautics, Finmeccanica Professor of Engineering, and Director of the Laboratory for Aviation and the Environment, MIT
14:35 - 14:50
Large-Scale Networked Wave-Field Sensing and Reconstruction for Maritime Operational Guidance - Predictability and Capacity
by
Dick Yue,
Philip J. Solondz Professor of Mechanical and Ocean Engineering at School of Engineering, MIT
14:50 - 15:05
Energy efficiency in desalination: a thermodynamic systems problem
by
John Lienhard,
Director, Abdul Latif Jameel World Water and Food Security Laboratory, and Director, Center for Clean Water and Clean Energy, MIT
15:05 - 15:25
Investigating the air microbiome in Singapore
by
Enzo Acerbi,
Research Fellow Singapore Center for Environmental Life Science Engineering (SCELSE)
15:25 - 15:55
Tea Break
16:00 - 17:00
"A more livable Singapore: pathways for reducing outdoor temperatures and improving thermal comfort"
.
- Leslie Norford, Professor, Architecture, MIT and former Lead Principal Investigator for CENSAM (Chair) - Markus Kraft, Lead Principal Investigator for Cambridge Centre for Energy Efficiency in Singapore (CARES) - Nyuk Hien Wong,Professor, Department of Building, School of Design and Environment, NUS - Heiko Aydt, Senior Researcher and Coordinator for Responsive Cities, Future Cities Laboratory (FCL), Singapore ETH Centre (SEC)
17:00 - 17:10
Wrap-Up Session - Andrew Whittle, CENSAM Lead PI