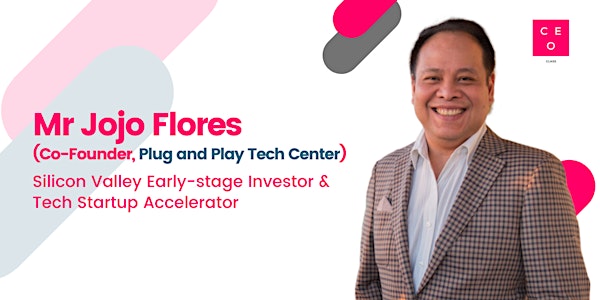 CEO Class - Mr Jojo Flores (Co-Founder, Plug and Play Tech Center)
Talk about personal goals and growth with Jojo, who founded a Silicon Valley based early-stage investor and technology startup accelerator.
About this event
CEO Class is a Global For-Impact initiative. With the mission to empower future leaders, we are all volunteers. By holding virtual fireside chat sessions with the greatest leaders around the world, we want to inspire young people about their personal goals and growth.
Website: https://www.ceoclass.world/
Podcast: https://anchor.fm/ceo-class
------------------------------------------
About the Speaker
Jojo is Co-Founder at Plug and Play Tech Center, a Silicon Valley based early stage investor and technology startup accelerator, which he started in January 2006. Plug and Play accelerates over 2,000 tech startups yearly from all around the world in 20 countries in 35 global offices, which access a network of over angel investors, venture capital firms, and over 520 large corporations. Since inception, Plug and Play startups have been able to raise in excess of $9 billion in funding. Plug and Play Ventures have over 1,500 companies in its portfolio, with over 20 unicorns including PayPal, Dropbox, Lending Club, N26, Soundhound, Honey, Guardant Health, among others.
In the Philippines, Jojo is Co-Founder of Launchgarage, which started operations in March 2016. Patterned after Plug and Play, Launchgarage is an accelerator and investor in tech startups in the Philippines and the ASEAN region. Jojo currently advises startups in the country, including PearlPay, Tangere, Taxumo, Magpie, Mober, Galileo, among others.
In addition, Jojo serves as a Board Member and Vice-President in the Science and Technology Advisory Council to the Philippine government and leading universities, helping them bridge technology entrepreneurs to Silicon Valley. He is also a Board of Trustee at De La Salle Lipa. As well, a board member at Animo Labs-ICAST of De La Salle University.
Jojo completed his BS Business Administration studies in 1989 at the University of the Philippines, Diliman.