Certificate in Software Development Basics (Beginner-Friendly)
We are launching our brand-new course in Software Development Basics for FREE*
About this event
(You heard us, it's free!)
Your first step into coding couldn't be any easier, covering HTML/CSS, JavaScript you will be able to build an application from scratch! (Beginners are welcome!)
Frameworks Covered:
HTML/CSS
JavaScript
BootStrap
Start Dates/Time of Course:
(Every Monday, Wed and Thurs, 7:30pm-9:30pm)
6th Dec (Mon)
10 Jan (Mon)
Course Delivery:
Course Fees:
FREE! (for the 1st month)
Trainers:
Arif Rawi | Automation Engineer | Vital (Ministry of Finance)
Neelima| FullStack Developer | Facebook
Up for the challenge? Click to the link below to register your interest today!
bit.ly/softwaredevelopmentbasics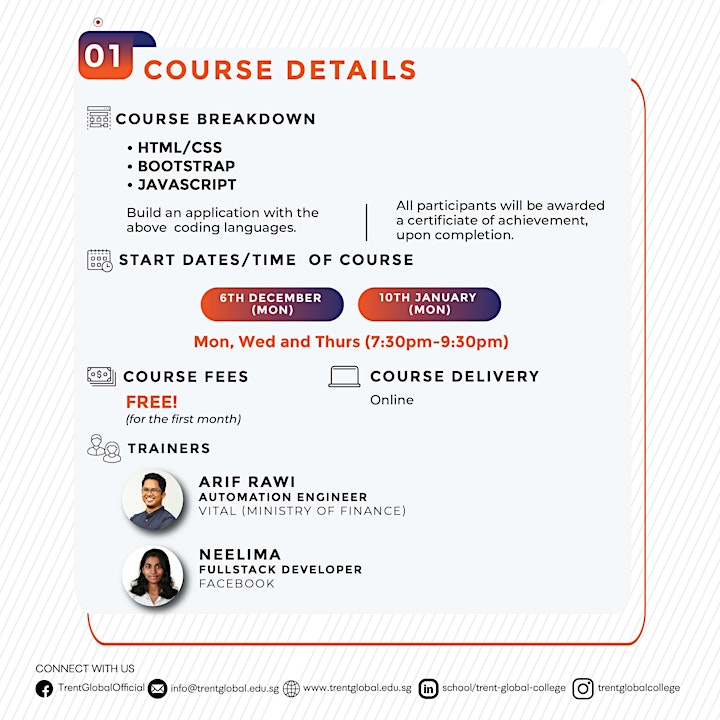 Organiser of Certificate in Software Development Basics (Beginner-Friendly)
Trent Global College is a private institution which has been working closely with industry players for the past 15 years to identify knowledge and skill gaps in their design and delivery of programmes. Trent Global College predominantly partners with top institutions to deliver quality education to its students.