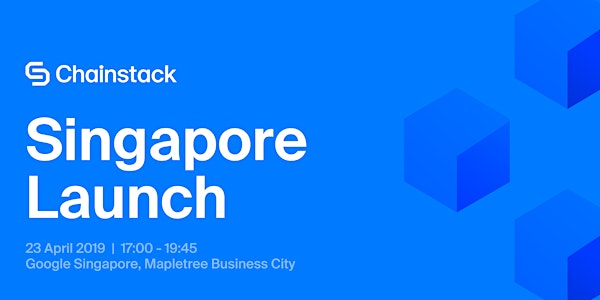 Chainstack - The Control Panel for Blockchains - Singapore Launch
Date and time
Tue, 23 Apr 2019 17:00 - 19:45 +08
Location
Google Singapore 70 Pasir Panjang Road #03-71 Singapore, Singapore 117371 Singapore
Description
Join us for Chainstack's Singapore launch as we gather some of the most prominent actors within the enterprise blockchain ecosystem in Southeast Asia. Gain real perspectives on the state of enterprise blockchain adoption, its challenges, and what remains to be addressed as we move closer towards realizing a blockchain-enabled world.
Expect to hear from:
Industry experts from government, enterprise, and technology sectors sharing insights from working on real-life use cases


Seasoned developers talking about their experiences building, deploying, and managing enterprise blockchain projects and how they are overcoming implementation challenges

Community leads from leading enterprise blockchain protocols such as Ethereum, Hyperledger, Corda, Quorum, and MultiChain

Agenda
17:00 Registration
17:30 Welcome address
17:35 Founder keynote
17:45 Google keynote

18:00 Keynote on enterprise blockchain adoption
18:15 Panel #1: The trends and industry-specific impacts of blockchain adoption across enterprises and government players
18:35 Live client demo: How to start building enterprise-grade blockchain solutions in minutes
18:55 Panel #2: An overview of leading enterprise blockchain protocols

19:15 Q&A
19:30 Closing address and presentation of tokens of appreciation

About the organiser
Managed blockchain services making it simple to launch and scale decentralized networks and applications—complete with an intuitive user interface, seamless orchestration, and predictable pricing. 
We offer enterprise-grade tools and services that empower developers, solution providers, and consortia to safely experiment and run in production. 
By building on Chainstack, you reduce the time, cost, and risk involved with leveraging decentralized technologies. With a secure API, membership management, 
and flexible deployment options, you can immediately accelerate and future-proof your development of transformative solutions.