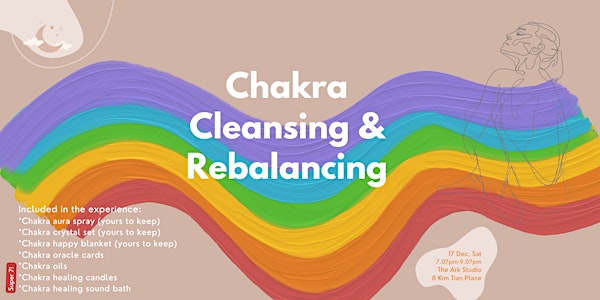 Chakra Cleansing + Rebalancing
Specially curated, a full experience.
When and where
Location
The Ark Studio 8 Kim Tian Place #15-55 Singapore, 163008 Singapore
About this event
Get ready to be fully immersed in a beatiful sacred space, you will experience 7 Chakra cleansing & rebalancing experience. The intention is to empower you to be your own healer.
If there's a particular area you want to work on you can focus on that chakra, and if you don't know which chakra to work on, it's ok, we will find out on that day. You will learn how to use the crystals, and to connect with the 4 elements (air, earth, water, fire), chakra toning, and more.
Do come with an open mind. It's a guided session. Let your body tells you what it needs. Observe how the energy flows, the sensations, and your emotions. It's going to be fun, gentle and relaxing. Great for beginners too.
Included in the experience (Super 7!):
- Chakra aura mini spray (yours to keep)
- Chakra crystal set (yours to keep)
- Chakra blanket (yours to keep)
- Chakra oracle cards
- Chakra oils
- Chakra healing candles
- Chakra healing sound bath - there will be flutes (melody played to Solfeggio frequencies), ethereal tongue drum, and chimes.
Home brew Gratitude tea will be served at the end of the session.
Guided by Adelynn Shan Lee, multi-instrumentalist and founder of Soul Happy People (www.soulhappypeople.com). She plays the Native American flutes, medicine drums, piano, and many other sound healing instruments. She is a flute(NASF) instructor, and also teaches flute making.
She believes that music heals, transforms and inspires. Her goal is to move people from the head-to-heart space, and to plant the seed that You can be the change and light you want to be.
Get your Happy Chakra ticket @ $187 only! Limited slot.
Sign up before 17 Nov to receive a BONUS gift! Don't miss this special!
Paylah/Paynow is accepted. Whatsapp Adelynn 96669389 to register.