Description
Rhemaworks is organising another Charity Art Jamming event!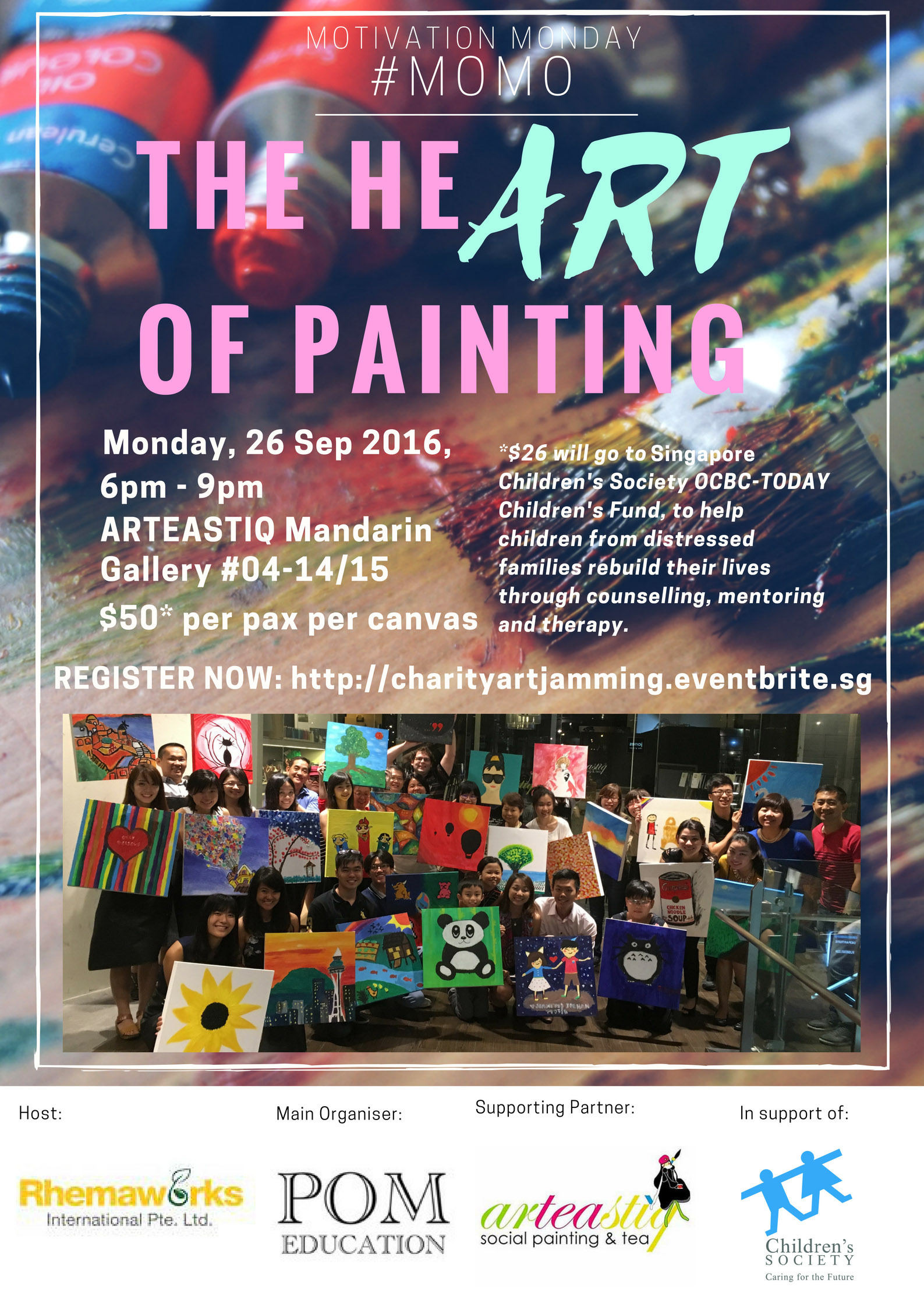 EVENT DETAILS
DATE: 26 September 2016, Monday
TIME: Anytime between 6pm - 9pm
VENUE: Arteastiq
Mandarin Gallery #04-14/ 15
PAINT FEE: $50 per pax per canvas
$24 Covers venue cost and $26 goes to Charity
incl. brushes & canvas to bring home,
unlimited paint & a FREE drink worth up to $10.
Limited seats only!
Any queries, kindly contact Jia Huey @ 91737743
OUR CHARITY BENEFICIARY
, Singapore Children's Society (SCS):
Singapore Children's Society protects and nurtures children and youth of all races and religions. In 2015, the Society reached out to 67,577 children, youth and families in need. Established in 1952, its services have evolved to meet the changing needs of children. Today, Children's Society operates 11 service centres islandwide, offering services in the four categories of: Vulnerable Children Services, Children and Youth Services, Family Services, and Research and Advocacy.
For each ticket sold, $26 goes to SCS OCBC-TODAY Children's Fund which is committed to helping children from distressed families to rebuild their lives through counselling, mentoring and therapy.
For more information, visit: https://ocbctodayfund.sg/
ABOUT Rhemaworks:
Join us for an EXCLUSIVE FUND & AWARENESS raising family event. Come for a meaningful evening to support and make known the effects of childhood stress and its effects on us in the areas of mental, emotional, behavioural, physical and relationship issues.
Rhemaworks provides Identity works based on Professor Franz Ruppert's Identity theoretical framework through public education, training as well as intervention and support works to allow individuals, families find healthy resolution in their personal, emotional, psychological, physical, relational and physical aspects.
For more information, visit:
Facebook page: https://facebook.com/systemoftheheart
Youtube Channel : https://www.youtube.com/c/christinefoongwong