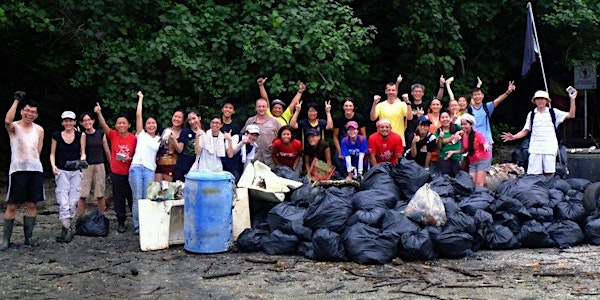 Chinese New Year/World Wetlands Day Coastal Cleanup @ Lim Chu Kang on Sat 4th Feb 2017
When and where
Location
695 Lim Chu Kang Rd Lim Chu Kang road end jetty 709654 Singapore
Description
The International Coastal Cleaup Singapore team is celebrating the Year of the Fire Rooster with a Chinese New Year / World Wetlands Day coastal cleanup at Lim Chu Kang beach and mangrove on Saturday 4th Feb 2017: 7.45am - 11.00am. Join us as we extend some tender loving care for one of our precious fragments of mangrove in Singapore. Please sign up by Wed 1st Feb 2017.
Meeting Point: Meet at the bus stop outside Kranji MRT (Bus stop no: 45139) for a pickup to the venue (50 seats available) or meet us at the venue itself, the end of Lim Chu Kang Road (Bus stop no. 34009) – you can take Transit Link bus No 975 to Lim Chu Kang jetty (Police Coast Guard).
Why we do this. Habitats along Singapore's coastlines host an amazing biodiversity and trash present in these areas impact our wildlife adversely and devalue the natural beauty of the landscape. Coastal cleanups conducted by volunteers around the world remove such trash, raise awareness of the plight of our oceans, and motivate us to rethink our habits in daily urban living to push us towards sustainable practises.
We tackle marine trash at the Lim Chu Kang coast a few times a year. Located in the northwest of Singapore, Lim Chu Kang's non-recreational beach and mangrove is besieged by trash from numerous land-based sources deposited into the western Johor Straits, as well as from offshore fish farms. Trash accumulates in this precious mangrove and we are determined to unburden this site to assist the health of the ecosystem there.
Thanks for taking an interest to protect our environment!
Itinerary
07.45am – Bus pick up at bus stop outside Kranji MRT (Bus code: 45139)

08.15am – Bus arrives at the Lim Chu Kang Road end.
Apply insect repellant, collect gloves and trash bags. Safety and procedure briefing.

08.30am – Cleanup begins

09.45am – End of cleanup; transport trash bags to Trash Collection Points.

10.00am – Trash is weighed and moved to the Trash Disposal Point followed by a debrief.

10.15am – Participants clean up; there are no public amenities in this area and your legs must be clean to enter the bus. So bring some water.

10.30am – Bus departs for Kranji MRT.
Things to note:

Transport to Lim Chu Kang East Beach, gloves, trash bags and weighing scales are provided.

You MUST WEAR hard-soled covered shoes or booties to to protect your feet from hazards, else you will not be allowed to work in the area.

A change of clothes is recommended after a sweaty workout.

You must be clean to enter the bus - bring a cloth and extra water to do this.

Long pants are recommended to protect your legs from insect bites.

We will continue the cleanup in rain (bring rain gear) but cease if there is threat of lightning.
Things to bring:
Water bottle (with at least one litre of water)

Hat and/ or sun block

Reusable raincoat / poncho (we will still work in light rain)

Towel to wipe off sand and mud

Change of clothes for public transport.
Be prepared:
Please read our

advice to participants

to prepare yourself for the cleanup!

Sleep early the night before

Have a decent breakfast – it's hard work!

Be punctual – the bus is unable to wait for latecomers; and the tide waits for no one!

Refer to the recce report of Lim Chu Kang beach and mangrove for additional information about the site.
See you on the beach!