Sales Have Ended
Ticket sales have ended
Hello, please note that we have reached our full capacity for this workshop If you are interested in being put on the waiting list or being informed of the next upcoming run, please whatsapp to 90486062 and we will keep you updated. Thanks for your interest and hope to see you at the next workshop!
Sales Have Ended
Ticket sales have ended
Hello, please note that we have reached our full capacity for this workshop If you are interested in being put on the waiting list or being informed of the next upcoming run, please whatsapp to 90486062 and we will keep you updated. Thanks for your interest and hope to see you at the next workshop!
This intensive workshop will give you an in-depth experience of Dr. Claudio Naranjo's approach to the 27 Enneagram Instinctual Subtypes
About this event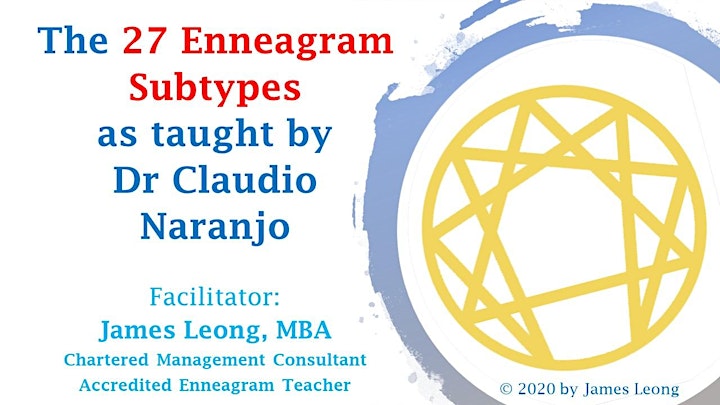 (Participants must have a good foundation of the 9 Enneagram Types before enrolling for this workshop)
In the absence of self-awareness, leaders are often left with little control or influence, and this results in poor decision-making and potentially costly mistakes. Leaders who are in in touch with their instinctual motivations, desires, and emotional triggers are better equipped to make rational and strategic decisions and send a message of confidence and trust to their employees and stakeholders. This workshop will clarify and deepen our understanding of the 27 instincts, seeing them at work in our personal experience.
This Workshop will employ the experiential exercises as prescribed by Nobel Peace Price Nominee and Fulbright Scholar Dr Claudio Naranjo -- They include Enneagram Panels, Dyads, Meditation, Movement work, and Music to help participants recognize the ways that their Enneagram instinctual patterns are expressed in their lives. The Enneagram will provide you with the pathway to greater social skillfulness too.
In this workshop we will explore
How the Enneagram Subtypes affect our vital relationships,
How to orient yourself when you are caught up in "people problems" with individuals of other Subtypes (that you previously have no clue how to resolve)
Dates (4 sessions):
3 Apr, Fri, 6.30 - 10.30pm
4 Apr, Sat, 9.00am - 6.00pm
8 Apr, Wed, 7.00 - 10.30pm
11 Apr, Sat, 9.00am - 6.00pm
Price: $750.
Early bird rate: $588 by 31 Mar
Early early bird rate: $528 by 28 Mar!
Special rates for past graduates, please contact us to enquire
*Note there may be pre-workshop homework
The Origin of the Enneagram by James Leong's teacher Dr Claudio Naranjo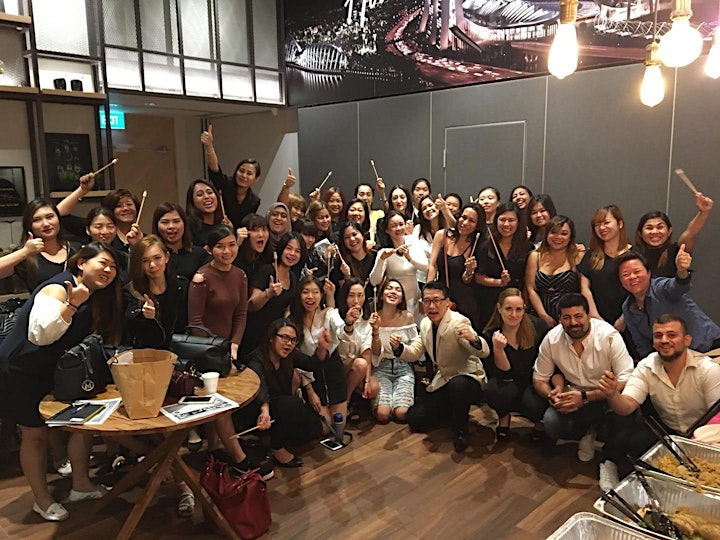 Enneagram Teacher James Leong with his participants
About Your Program Facilitator:
James Leong
James Leong is a Chartered Management Consultant and Master Executive Coach. His Personal Development Journey started in the 90s and he is a long time student of Dr Claudio Naranjo, developer of the modern day Enneagram, since 2010.
An Accredited Enneagram Teacher, James is also a Master Trainer in NLP and Ericksonian Hypnosis. He has taught and coached in many different cultures and countries over the past 15 years. James is familiar with both personal transformation and corporate contexts, having devoted himself to hundreds of hours in personal development, mindfulness, self-mastery, approaches like Gestalt therapy, somatic dance and more.
James has also conducted over 2000 hours of training and facilitation in both small and large group corporate contexts in areas such as leadership, self-mastery, sales, peak performance, organisational development and team building for executive development.
James brings with him a rich and broad experience with more than 15 years of experience in the fields of executive coaching and consulting. His clients include Multi-National Corporations like the Volvo Group in India and China, KPMG, Deloitte Consulting, MHA, SAF, Societe Generale Bank and Accuity (Subsidiary of Reed Business Information), ESIS Asia Pacific and many more.
His USP is that he teaches "simple steps that produce transformational results".
James seamlessly brings his unique boardroom coaching and facilitation techniques to the training, creating both insightful learning and deep transformation for participants.
QUALIFICATIONS
`Master of Business Administration from the "The Lord Ashcroft International Business School" at Anglia Ruskin University, UK. His 2010 MBA thesis is on How Neuro-Linguistic Programming (NLP) can be used to Alleviate the Stress of the Enneagram Types
Chartered Management Consultant and Member of the Chartered Institute of Management Consultants, USA.
Accredited Teacher of the Enneagram (International Enneagram Association, USA).
Master Trainer in NLP (NLP University, USA).
Certified Trainer of Hypnosis (National Board of Professional and Ethical Standards)
MBTI Trainer (CPP, USA).
Language And Behavior Profile (LAB Profile) Practitioner (Success Strategies, Canada).
James is currently pursuing his Doctorate in Business Administration
Prerequisite: Participants must have a good foundation of the 9 Enneagram Types before enrolling for this workshop.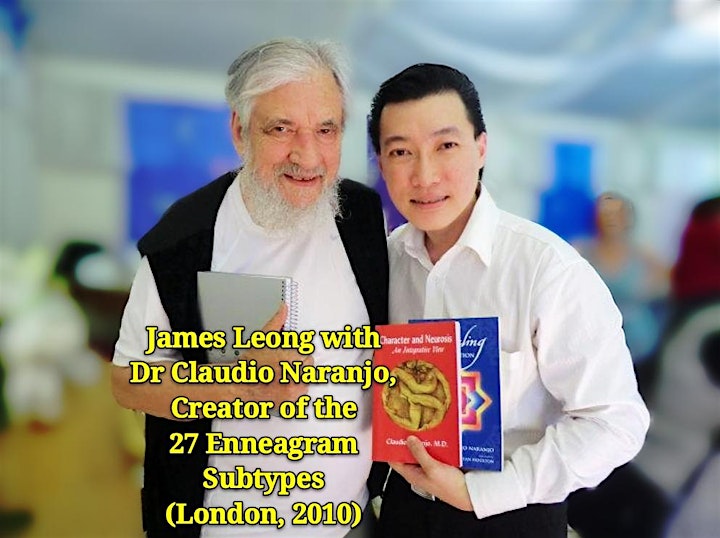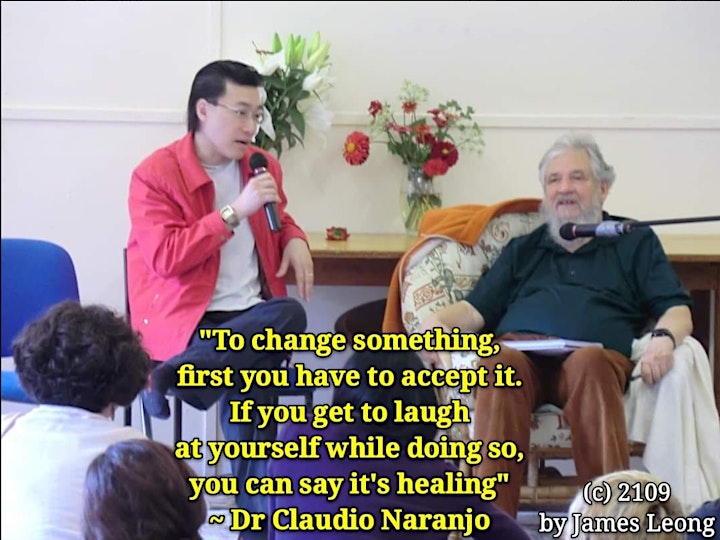 James Leong with his teacher Dr Claudio Naranjo (London, 2010)
Testimonials
(Previous Enneagram and personal transformation programs)
"I've known James for two years and taken his Business Enneagram Course and the advanced course. James has provided me with valuable insight into my own and other personality types. Both the Enneagram courses were informative and were conducted in an environment where it felt easy to openly discuss about ourselves and learn from each other. Each week of the program was different and you could feel yourself becoming more aware of yourself and your potential. Both courses have helped with my work and personal life. My job as a Senior Officer in the Airport Emergency Service, I was in charge of fourteen others. After taking the courses, I am able to better deal with my crew and to help them according to their type. James also taught me NLP techniques that I was able to implement during coaching sessions. More importantly, I was able to learn about myself and discover my strengths and weaknesses of my type. I felt more at peace with the new found self-awareness of who I am, and how to get the best out of myself. For that, I owe a lot to James, and would recommend him to anyone who is looking for an honest, experienced, and sometimes funny, Enneagram Coach to help them get the best out of themselves."
— Mark Adam Collins, Senior Airport Emergency Officer, Seletar Airport
"Learning about the Enneagram gave me a deeper insight into my innate habits and personal attitudes towards situations in life. It also taught me how I can step out of my personality type and explore/adopt traits from other personality types in order to improve myself.
I am better able to understand my relationship with others around me and accordingly respond to individuals or situations in a manner that would improve communication and understanding.
I see myself being better able to cope with challenging situations involving superiors or colleagues which would have previously been difficult to deal with.
James is a highly enthusiastic coach and goes to great lengths to make the course as comprehensive, entertaining and resourceful as possible. I have thoroughly enjoyed his course and look forward to future opportunities to learn more from him."
— Vaishnavi Honnavalli, Research Analyst, Home Team Behavioural Sciences Center, Ministry of Home Affairs
"I was utterly impressed with the amount of learning that was achieved during the course. James Leong's unique ability to teach complex topics in a way that is interesting, participative and easy to absorb, helped all of us to assimilate many topics and put them into practice into our daily lives straightaway."
— Mario Ferraro, Former Director, Human Capital Consulting (SEA), Deloitte Consulting
"James, I want to thank you and your team for the excellent learning opportunity. Understanding my personality style and preferences during the Team Building Seminar has been most profoundly impactful! Now I know how to draw out and maximize the strengths in myself and my colleagues."
— Mr. Juan Ramirez, Business Services Technology Manager, Merial Asia Pacific Region (A division of Merck and Co., Inc.)
"James is not a trainer that teaches towards accumulating wealth for himself. Instead he is very passionate about interviewing every student and understanding their purpose for wanting to achieve from this course. By doing so he would during his training, relate the topics to each student to fulfill our need to apply this new knowledge to our life. I would not hesitate to consult James for any future projects and am pleased to say that he would be an asset to anyone who is currently lost or needed an extra helping hand to understand more about human characteristics through the Enneagram. He comes highly recommended from me and went beyond all expectations that I had."
— Lionel Ng, President, Dennis Wee Realty Pte Ltd
"I would like to thank James Leong for his genuine, sincere, and dedicated guidance over the last two years as a mentor, teacher, and a friend. He is a very experienced and down-to-earth trainer who focused very much on practicality of what he teaches, instead of merely theory and fluff. James is one of the many great trainers I know who truly understands the importance of contextualization. He makes the Enneagram very easy to understand and practical to apply for different individuals in various settings. I attended the training by James and the overall experience was awesome. The unique yet powerful combination of the Enneagram profiling, Emotional Intelligence, Business NLP, and Executive coaching, has provided me ample resources and confidence to go on to impact and inspire many people in my role as a counsellor, trainer, consultant, and coach."
— Thomas Lim, Psychologist, Changi Prison
"I have attended many workshops with world renowned speakers like Tony Robbins , T Hary Eker , Blair Singer , Stephen Pierce , Chris Howard , and Jack Canfield . None of these world class speakers combine NLP with Enneagram. That's the Unique Gift of James, once you are equipped with the knowledge you can apply it for either business partnership or finding your soul mate !!!"
— Tanmoy Das, Scrum Master and Agile Coach
"James' program has improved my human relationships as well to create a new income source as a life coach. I give the program 5 Stars for fun and effectiveness., not only for the changes in my business but also in my personal life."
— Dr Patrick Chan, Former Business Professor (Behavioral Finance), Nanyang Technological University
"I highly recommend James Leong. Everything that he taught can be applied immediately."
— Mr. Colin Koh, Acting General Manager & Head Skills Training, Air Transport Training College
"James is very generous with the information shared and he has really made the techniques come to life and easy to understand"
— Mr. Lau Mun Ying, Lecturer, Singapore Polytechnic
"I must hand it to James for being such a great coach and trainer."
— Mr. Loh Wei Lee, General Manager - Head of IT (APAC) at The Dai-ichi Life Insurance Company, Limited
"James Leong's willingness and generosity to share his wealth of insights and sales experiences have made him a much sought-after trainer. He is indeed one of the BEST Sales Trainers and Success Coaches in Singapore!"
— Mr. Danny Here, Former General Manager, Synergy Worldwide (Malaysia and Singapore)
"James Leong is a well‐read and powerful trainer who has the ability to excite and totally transform lives! The knowledge I've gained from James' program has helped me to understand my inner world in greater depth and enabled me to enhanced my relationships and improve my performance as a lecturer in professional education!ʺ
— Mr. Clancy Peiris, Attorney-at-Law, ACMA, FFA. Senior Learning Development Manager, CIMA, United Kingdom