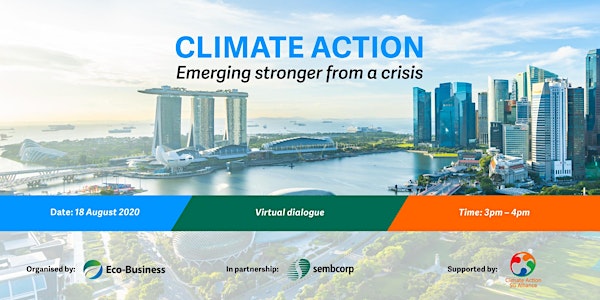 Climate action: Emerging stronger from a crisis
Eco-Business, in partnership with Sembcorp Industries, will be hosting Climate action: Emerging stronger from a crisis.
Date and time
Tue, 18 Aug 2020 00:00 - 01:00 PDT
About this event
The world is set for an economic downturn as it recovers from the Covid-19 coronavirus pandemic and Singapore will not be spared. The country suffered its deepest economic slump on record in the second quarter, prompting the Government to trim its growth outlook for the year, warning that the economy is expected to shrink between 5 to 7 per cent this year.
But we cannot afford to lose sight of longer-term priorities—the harnessing of new technologies, ensuring public health, getting workers prepared for future opportunities, and dealing with a much bigger challenge than Covid-19: Climate change. How can Singapore emerge stronger from this crisis? How can the government, business and society work together to address short term needs as well as the long-term resilience of our nation?
As Singapore hosts its annual Climate Action Week, join us on 18 August 2020 as we convene the leading minds to discuss the way forward and actions we can all take.
The full agenda is available here.
About the organiser
Eco-Business is Asia Pacific's leading media and communications organisation on sustainable development. Established in 2009, its independent journalism media unit publishes high quality, trusted news and views that advance dialogue and enables measurable impact on a wide range of sustainable development and responsible business issues. We provide advertising and marketing services, custom event, multimedia and video production, training, research and consulting. We help our partners build their knowledge on sustainable development, enable them to foster strong relationships with their stakeholders, establish thought leadership and drive measurable impact. Headquartered in Singapore, we have offices in Manila and Beijing, and correspondents across every major city in Asia Pacific.