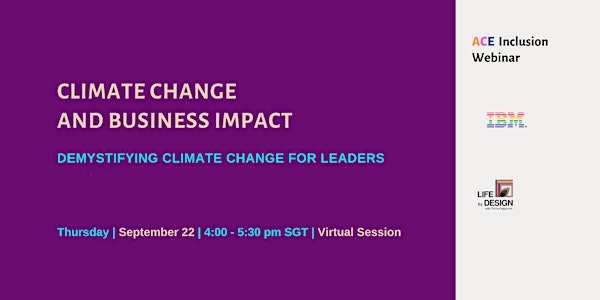 Climate Change and Business Impact
Are you prepared to successfully integrate climate change into business strategy for an inclusive fair and equitable transition to net zero?
About this event
Climate change is already affecting people and communities, reshaping markets, economies, business operations and the future of work. Businesses, government agencies, customers and investors are increasingly acknowledging climate change as one of the defining challenges of our generation.
Climate change crisis is increasingly becoming a financial and strategic issue, set to cause a fundamental shift in our world and give the term 'responsible business' a whole new meaning.
Join us for this very timely discussion that highlights:
• The impact of climate change on the business world
• How climate literate leaders will define the future of leadership
• What the transition to a low carbon future means for the workforce
• The need to make the transition inclusive, fair and equitable
• The new imperatives for 'responsible and sustainable business'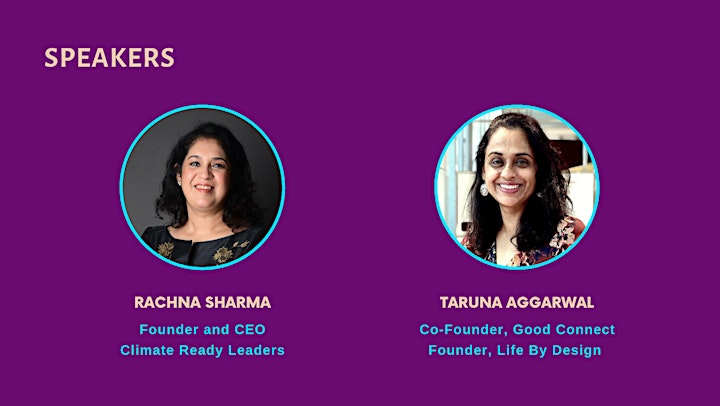 Founder and CEO: Climate Ready Leaders
Rachna Sharma has over 25 years of experience in communications strategy, stakeholder engagement and sustainability communications. She has worked with leading global organizations and clients at senior most levels across India and Asia Pacific, leading teams to highly impactful and global award winning work. As the Founder & CEO of Climate Ready Leaders she has brought her communications mettle to the biggest challenge of our time and aims to demystify climate change to accelerate climate leadership and action across Southeast Asia.
Her previous experience includes 12 years with Edelman Indonesia and with WPP firm Cohn &Wolfe Indonesia as country Managing Director. More recently, she has handled assignments managing communications projects for Bill &Melinda Gates Foundation projects in India, and as Sustainability Communications lead and Chief Mentoring Officer for Publicis Groupe firm MSL India.
She holds a Masters from the Institute of Rural Management, Anand (IRMA), India and a certificate from University of Cambridge, Institute of Sustainability Leadership on Business and Net Zero emissions.
Co-Founder and CEO: Good Connect
Founder: Life By Design, Singapore
Taruna Aggarwal has more than 20 years of experience in Leadership Development, Coaching, HR Consulting and Executive Search. Taruna's vision is to create an inclusive and equitable society. She believes that a systematic, holistic approach to inclusion and wellbeing is required at the individual, leadership and organization level to bring about sustainable development and secure the future of our society and planet.
She is the Co-founder of Good Connect Pte. Ltd., a Singapore registered Social Enterprise that connects CSR to NGOs to amplify impact creation in the social and environmental ecosystems.
She is the Founder of Life By Design, a coaching-led practice working towards amplifying Diversity Equity and Inclusion (DEI) in Asia Pacific, enabling individuals and organisations to 'design-think inclusion'. She uses an integrated approach combining coaching, facilitation and strategy to build inclusive cultures and authentic transformation.
She is an ICF-PCC Level Certified Coach, ACTA Certified Facilitator, MBA in HRD. She holds a Certificate in Leveraging Diversity and Inclusion for Organizational Excellence from Stanford University Graduate School of Business.