Description
10am to 6pm. Max. 8 pax per class. Course Fee: $288, SkillsFuture Credit Eligible.
The Good Designers Video: http://bit.ly/thegooddesigners-course-video
For more course schedules, email us at sayhi@thegooddesigners.com


Objective of the workshop:
a) Share HTML resources with participants
b) Participants will be able to learn the basics of HTML coding to replace images, and edit HTML according to their needs
c) Modify existing HTML template (FREE resources provided) with the following information, feature banner, who we are, services, our team and contact details
By the end of the workshop, participants will be able to:
• Modify, update and tweak existing HTML Codes of a working HTML website
• Create web banner designs with free to use web-based software for their HTML website
• Understand cPanel and FTP, upload files to demo server or your own hosting server

• Code and Customize a 1-page HTML informational website
• Attain a relevant skill for their work and business
HTML Website Examples 01: http://bit.ly/html-project-portfolio-01
HTML Website Examples 02: http://bit.ly/html-project-portfolio-02



Who should attend?
• Sales & Marketing Professionals who need informational websites quickly
• Business Owners and Individuals who would like to build a professional HTML website in 1-day
• Designers who hope to learn basic HTML coding and editing
• Anyone who would love to add a useful skill to their resume!
What you'll need to bring to class:
• Laptop & charger
• Mouse & mouse pad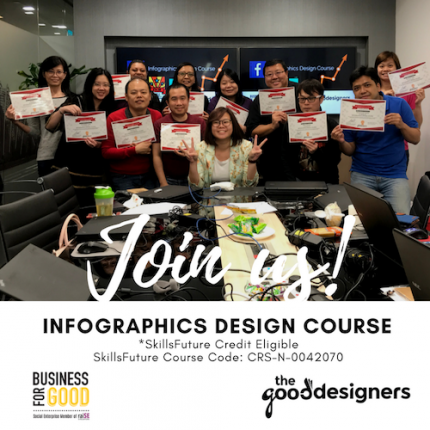 About the Trainer
Charmaine is the Creative Director of Sky Digital Agency and The Good Designers.
She has been conducting training since 2015, equipping her clients in Facebook Marketing, Search Engine Optimization (SEO) & Email Marketing, and other key digital marketing topics. Till date, she has conducted more than 1,000 hours training. Charmaine is also an ACTA Certified Trainer.

Charmaine makes learning interactive, practical and fun. She enjoys breaking down complex topics to help participants gain better understanding on Facebook Marketing, SEO & SEM, Infographics Design and more!
She strongly believes that the training industry needs more courses and training with smaller group of participants that allows them a more conducive environment to learn, ask questions, and have more 1-to-1 time with the trainer.

Follow @skydigitalagency on Instagram
Follow @thegooddesigners on Instagram

Other SkillsFuture Credit Eligible Courses under Sky Digital Agency
✓ Kickstart your training business with Facebook Video
✓ Facebook Marketing Masterclass and Chatbots
✓ Advanced Facebook Marketing with Ad Manager Course
✓ Instagram Marketing for Beginners
✓ Find Success in Social Media Marketing and Communication
✓ Winning with an Integrated Content Marketing Strategy
✓ Integrated Facebook Marketing for Business and E-commerce Owners
✓ Integrated MailChimp Email Marketing for Business and E-commerce Owners

Workshops The Good Designers Conduct:
✓ 1-day Infographic Social Media Video Content Marketing
✓ 2-day: Corporate Video Content Marketing
✓ 1-day: Code a 1-page HTML with Sublime Text (HTML/CSS)
✓ 1-day: Infographics Design for Email Marketing Campaigns
✓ 2-day: Get SUPER Creative with Adobe Photoshop
✓ 1-day: Design AMAZING infographic flyers with Microsoft PowerPoint
✓ 2-day: Create a 3 page WordPress Course


Email us at corporate@thegooddesigners.com to collaborate!
Visit us at: www.thegooddesigners.com
Instagram: @thegooddesigners
Facebook: fb.com/thegooddesigners
WordPress Portfolios:
https://www.courses.skydigitalagency.com/demo-event-landing-page/
https://www.courses.skydigitalagency.com/event-landing-page/

Connect with us at The Good Designers
Facebook | Instagram | YouTube | Website
Our Workshop Reviews on Facebook:
More workshop reviews are available on our Facebook Page
FAQs
1. Who can i contact should i have questions?
You may e-mail us at peatix@thegooddesigners.com

2. Is there a minimum class size to proceed?
Yes. We require a minimum class size of 4 people to proceed with the class.
In the event that there is insufficient participants, The Good Designers reserves the right to reschedule the class. Under such circumstances, we will inform you no later than 3 days before the event.
3. What are my transport options getting to the event?
6 Raffles Quay, #15-00, Singapore 048580


4. I'm driving, where can I park?
There is parking space at the building 6 Raffles Quay itself at $2.50 per 30 min block.
For weekend classes, we recommend our participants to park at SGX Centre, at $3 per entry.
Charmaine conducting a 3 hour workshop with 40 training educators at Life Long Learning Centre under Institute of Adult Learning (IAL), on Ways to Effectively Retain Learning Through Better Visual Presentations.
Corporate Training with 15 Staff of Singapore University of Technology and Design.
Full Day Workshop Training: Infographics & Visual Content Marketing