Description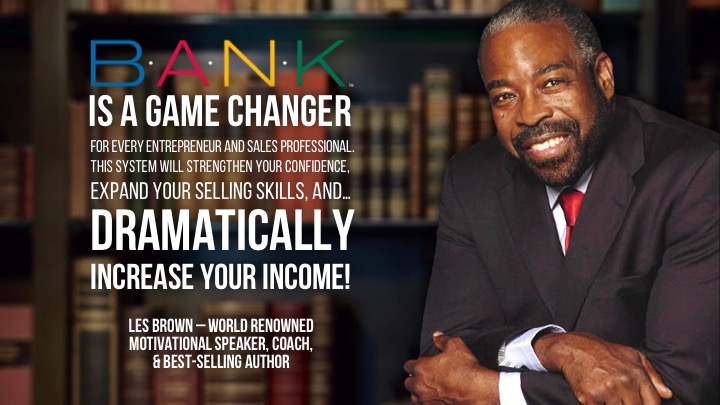 BANKCODE is the #1 Personality Selling System in the world and is the ONLY methodology Scientifically-validated to PREDICT Buying Behavior and Increase your sales in less than 90 seconds.
CODE BREAKER SUMMIT (2 DAYS)

In this powerful two-day intensive high energy workshop you will learn WHY PEOPLE BUY, how they make decisions, and how to make your sales and business offer by using the language of each unique person and their BANKCODE.

B.A.N.K. is a proven step-by-step system that has been field-tested for more than 20 years. The REVOLUTION of the BANK system is that it was REVERSE-ENGINEERED for Business and Sales. BANK allows you to understand the buyer's mind and know their triggers and tripwires, and how to get more YES's and how to Avoid the NO's, and how to achieve and exceed your sales targets and beat your quota. BANKCODE includes the secrets, science, and system to increase your sales by up to 300% annually.
The Code Breaker Summit includes two full complete courses - the BANK FUNDAMENTALS course and the BANK SPEED CODING course.

BANK FUNDAMENTALS SALES - DAY 1

Our certified & licensed trainer with BANKCODE in Singapore will teach you the following:

Demonstrate how to leverage the Sales Velocity Equation to drive maximum results for your business.

Determine the 4 B.A.N.K. Personality Types and the 12 values associated with each one.

Using B.A.N.K., you will learn how to improve your expertise and competence in increasing your sales velocity.
Day 1 teaches you a systematic approach by combining the two strategies. The results create a bigger impact on your bottom line by providing more value to your clients and stakeholders. This introductory course is the foundation that sets the stage for gaining knowledge and comprehension of the Sales Velocity Equation and the B.A.N.K. Methodology Personality Profiling System. Identify at least 3 of the sales tips for each of the 4 B.A.N.K. Personality Types. With a partner, practice the given B.A.N.K. Values Cards Script and crack their B.A.N.K. Code using the 4 value cards. Individually, summarize how your communication skills could improve and how you can get more YEss and fewer NOs.


SPEED CODING - DAY 2

Our certified & licensed trainer with BANKCODE in Singapore will teach you the following:


Apply the research and illustrations taught of the buying behaviors based upon the B.A.N.K. Personality Sales Training System.

Analyze how buying decisions are made by each of the B.A.N.K Codes.

Examine and compare non-verbal and verbal recognition clues of the 4 B.A.N.K. Personality Types.

Formulate your own set of strategic questions using The Speed Coding Formula to crack the code of your designated partner(s) so that you can practice speed coding with confidence.

Practice cracking the code of a prospect within 3 minutes without the use of the B.A.N.K Value Cards, using the strategic questions developed, and our custom B.A.N.K Poker Chips or Virtual Training Simulations.

Two Certificates of Completion (B.A.N.K. Fundamentals & Speed Coding) will be issued to individual participants upon completion of the 2-Day program.