About this Event
Learn how to use Javascript to create animations and web-based narratives to explain big ideas and global issues.
KEEPIN' IT SHORT & SNAPPY
Weekly classes on Saturday, 8 weeks x 2 hours (total 16 hours)
The last class that falls on Deepavali public holiday on Nov 14 (Sat) will be replaced on Nov 21 (Sat)
A follow on to Code Meets World 1: Brilliant Breakthroughs, Insane Inventions, and the World Wide Web
An intermediate course focussed on the creative application of web technologies
Discover how code can be used to make a real difference to global problems
The 2nd of 4 sequential, intermediate modules centered around applying web-based technology to create tangible projects that make an impact

Amazing Animations, Pressing Problems, & Story-telling for Social Impact.
First, warmin' up their coding and creative juices, kids will recap what they learned about HTML and CSS in Module 1. But this ain't your regular exercise in revision – kids will put what they learned in Module 1 to good use by creating a nifty website – based on research and the power of their imagination – to share a creative biography or resume of a personal hero who's made a positive impact on the world.
Next, kids will be introduced to coding with basic Javascript.
Combining the power of Javascript with CSS, kids'll learn all about styling websites and how that shapes the content and stories we consume so much of online.
Moving onto exploring the importance of storytelling in the context of social issues, kids will discover how to apply javascript to code up an interactive story of their own.
Combining logical thinking, creativity and the technical skills they've learned to build a choose your own adventure story, rooted in the realities of the wicked problems the world is facing.
By the end of this course, kids will have a solid grasp of the role of web-based content in inspiring social change and communicating big ideas, with an understanding of how websites and interactive narratives are designed and engineered to achieve intended outcomes and objectives. All this will put them in good stead for Module 3: Crazy Curves, Slammin' Simulations, & Monstrous Models, where they'll discover how code can create powerful models and simulations to communicate the urgency of pressing global problems.
Oh! The stuff you'll learn...
Introduction to basic Javascript and interactive web-based projects
Learn more about CSS to style websites and communicate ideas
Explore the role of storytelling in shaping social issues and spreading big ideas
Create a choose-your-own-adventure story game that synergises the technical skills you've learned with issues you're passionate about, and share it with your friends and family to make an impact!
LIFE SKILLS LEARNT
Logical Thinking
Problem Solving
Creative Confidence
Presentation Skills
Pedagogy
No lectures. No memorisation. No ONE right answer. Like real life, we're all about trying things out, failing, figuring what went wrong & trying again. These are the skills & mindset that will last a lifetime. Let's get kids to learn how to learn.
Because the kids who learn to learn become curious, inventive, resourceful human beings who solve real world problems to make meaningful impact.
Parents love us
"...and for the first time he is not running to play other people's creations but his own... I am absolutely delighted in the 'mindset' change in my son's attitude." - Emma, Parent
"Thank you for a wonderful and exciting enrichment program that is so much more than academics.. it's fun but for me as a mum, an important future skill set for my son." - Rachel, Parent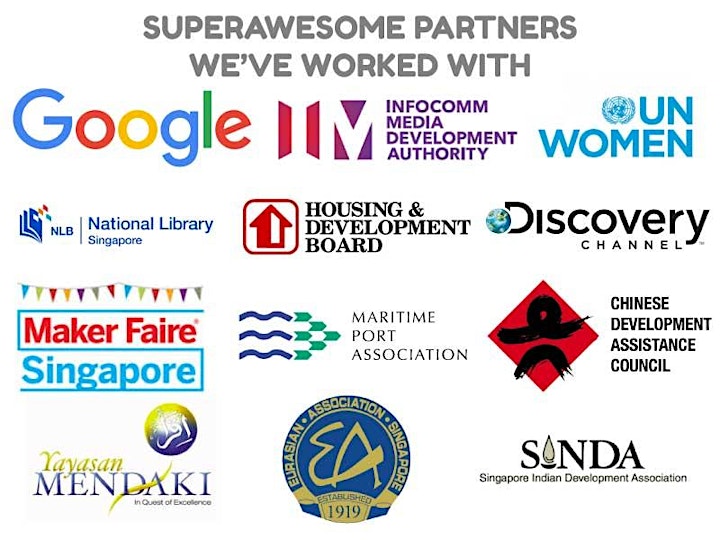 Got more questions on this course of awesomeness? Read our FAQ section below!
Frequently Asked Questions
1. Who is this course suitable for?
This course is recommended for kids ages 10-12 who have prior programming experience and have an interest in social and/or global issues.
2. What is Code Meets World?
Code Meets World is a progressive, year-long program comprising 4 terms of 8 weekly 2 hour classes. Students are required to complete one module before progressing to the next one as the curriculum is designed sequentially and progressively to develop kids' skills and awareness holistically.
3. I've enrolled my child, what will he/she need for class?
Classes will be conducted via Zoom conferencing (until further notice!). Your child will need a laptop/desktop computer with a webcam/video conferencing and their microphone enabled. We will be using password secured classrooms which will be locked once the class has begun.
Still curious? Ring us at +65 3159 0980 - we'd love to chat.
Or email us: hello@saturdaykids.com
Date and Time
Refund Policy