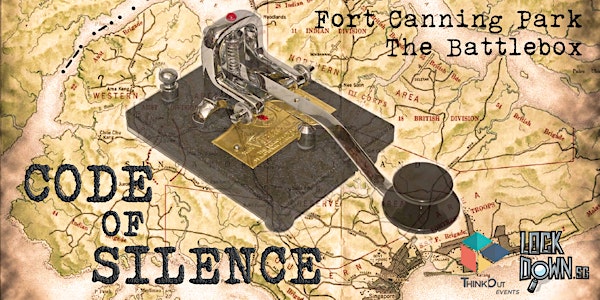 Code of Silence (Fort Canning Escape Game!)
An Escape Game event in a real World War II Bunker in the Battlebox at Fort Canning Park
When and where
Location
The Battlebox 2 Cox Terrace Singapore, 179622 Singapore
About this event
MEDIA SHOOT:
SYNOPSIS:
February 1942. The commanders of Malaya Command are deep in discussions in Battlebox over the imminent fall of Singapore and they are running out of time. You have been tasked to activate a top secret protocol, which is to send a code word to the secret agents of Force 136 to escape before it is too late. The code word has been encrypted and the Japanese are approaching soon. The future of the resistance lies in your hands.
Tickets:
Group ticket pricing at $150 per team, maximum up to 5 pax in a team.
There are only 2 dates, 20 Aug Saturday night and 27 Aug Saturday night.
Game Flow:
Each game will last approximately 1 hour.
As this game will require climbing of steep and narrow steps, please note that this game is not suitable for children below 11 years old and patrons requiring special access. Players who do not meet these requirements will not be permitted to participate in the game.
Update:
Facebook:
http://www.facebook.com/lockdownsg
Website:
FAQ:
What is this event about?
This is a family-friendly (age limit of 11 years and above), team-based game made up of 5 members, so this is a perfect opportunity to have fun with your friends or make new ones. Interaction and cooperation are keys to solving the puzzles. The puzzles train you to think out of the box and are suitable for young and old alike!
When should I arrive?
Please come 15 minutes before your game session for registration and team arrangement. The game must start on time. Please click here for a detailed guide to the Battlebox. We reserve the right not to admit late comers to avoid inconvenience to other players. 
How long does each game lasts?
Each game duration is approximately 1 hour.
What if it rains?
Although this is an air-conditioned indoor game, but this is a rain or shine event and there will be no refunds for wet weather. Please remember to bring your own umbrella!
How many people will there be in a team?
The maximum size per team is 5 players, but that you can play this game with less than 5 people in a team.
What are the Safe Distancing Measures?
Everyone is to wear masks at all times. Your group should maintain a 1m safe distance from other people and follow the Safe Distancing Measures applicable. Everyone must provide their name and contact number as part of contact tracing, and are required to install and use TraceTogether. .
I still do not understand?
For further enquiries, please email us at contactus@lockdown.sg
TERMS AND CONDITIONS
Please come 15 minutes before the Session Times stated above for registration and team arrangement.
We reserve the right not to admit late comers to avoid inconvenience to other players.
Each game duration is approximately 1 hours.
The game is conducted in English.
The team size is 5 players, but that is subject to change depending on total participants at each game.
All sales are final. Please be aware that our game is a live event, so once the booking is confirmed, refunds, cancellations or reschedules are not accepted.
This event is a rain or shine event and there maybe outdoor components. No refunds will be issued due to the weather.
Terms and Conditions are subject to changes without prior notice.
By purchasing the tickets, you are deemed to have agreed to the terms stated herein.
Who are the organisers?
Lockdown Escape is the leading Singapore company specialising in real life escape games, in which players are trapped in the game and must exploit his or her surroundings in order to escape, emphasising greatly on observation and lateral thinking skills in order to solve the challenges and puzzles. ThinkOut Events is an event specialist company that designs offsite and large scale events which promotes team building and lateral thinking skills. Together with Lockdown Escape, over 300 MNCs have enjoyed a unique team building events.