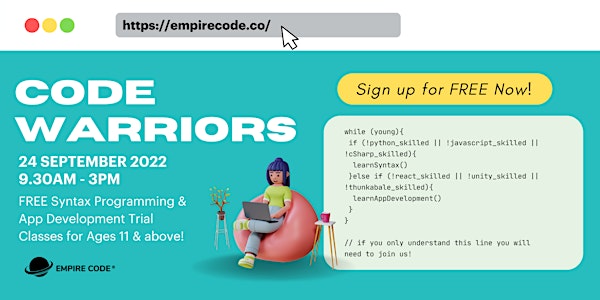 Code Warriors Open Day
You are invited to our Code Warriors Open Day!
When and where
Location
Empire Code Novena Campus 151B Thomson Road Singapore, Singapore 307606 Singapore
About this event
For both programmers and non-programmers, join us at our Syntax Programming & App Development Open Day, and get a head start on industry-relevant coding languages such as HTML5 & CSS, Python, JavaScript, C# and app development software platforms such as Unity! Build your 21st century skills with Empire Code today!
For students:
Select modules which pique your interest suitable for both beginners and non-beginners for ages 11 & above, and free for 30 minutes just on this special day.
For parents:
10% off all our credit packages for NEW students
10% off all our bootcamps for both NEW and EXISTING students
10% off for existing students' next package when their friend buys a package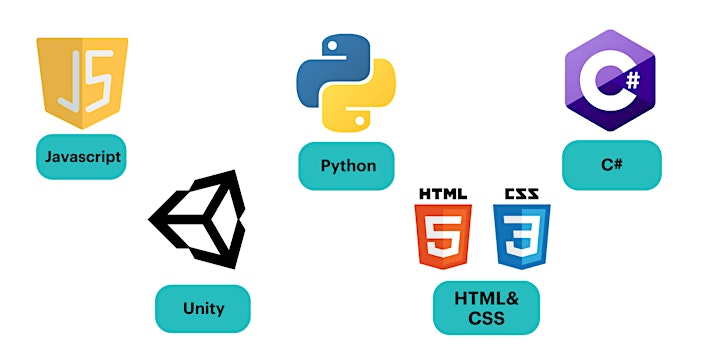 Schedule:
9.30am-10am
JavaScript - Known as one of the most versatile programming languages of our time, and commonly used for industry web applications, our JavaScript program allows students to develop games and gain valuable coding skills.
10.30am-11am
Unity - The world's leading platform for real-time game and app development, learn to model assets in 2D and 3D and learn how to create your own apps in Unity!
11.30am-12pm
Python - Learn to code in Python, the world's most famous coding language. Projects include art design, games, quizzes, chatbots and much more. Python is easy to learn and is an essential industry langauge for programmers.
1.30pm - 2pm
HTML & CSS - With HTML5 and CSS, you will learn to code a markup language and understand the concept and technologies behind creating your very own blog site and eCommerce website.
2.30pm-3pm
C# - A programming language developed by Microsoft that runs on the .NET Framework widely used in the industry, our C# program equips students with strong logical thinking & coding skills to prepare them for the future.