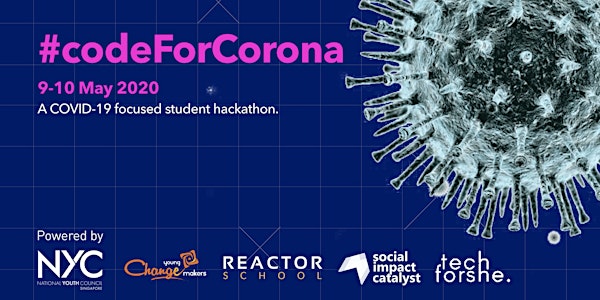 #codeForCorona: Students Against COVID
Have you been sitting at home, bored out your mind due to this lockdown? Sign up for #codeForCorona to have a fun, productive time!
About this event
Inspiration briefs released! Check the FAQ.
We began 2020 hopeful, excited. The dawn of a new decade seemed to promise much. But we were in for a nasty surprise: what seemed like a bad case of the flu in January has now infected almost 2,000,000 people worldwide.
COVID-19 is a threat to the world's healthcare systems, economies, and communities. But with these threats come the opportunity for innovation. We need systems for remote work now more than ever: NGOs need ways to continue their work, and universities can't just stop teaching their students.
The #codeForCorona Virtual Hackathon is here to give you a chance to build something that helps the world in this time of crisis. Spend a weekend competing with other talented people, having fun building something important for the world.
Taking place on the 9-10th of May 2020, #codeForCorona gives you the chance to make something awesome with your friends from the safety of your home. Escape the boredom of social distancing and build tools like Tracetogether that help society.
Over the course of 24 hours, you will explore what innovation in a world threatened by COVID looks like. The things you and your team build will work towards solving the social, medical, and economical issues that we are faced with. At the end of the competition, you'll have the chance to present your work to highly qualified judges and get their valuable feedback!
So what are you waiting for? Register now before the tickets run out!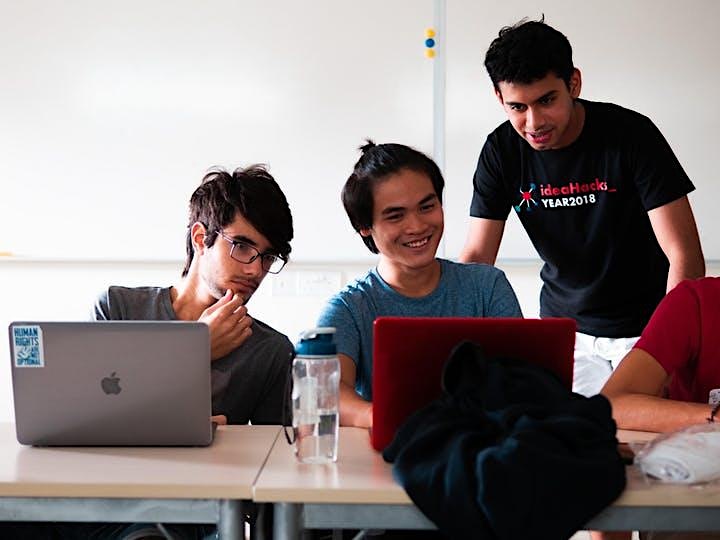 FAQ
Where can I find the inspiration briefs?
You can find the inspiration briefs here. (Update: some bonus material added — check it out!)
What is the judging criteria?
Please see the following section below.
What will I need to bring?
A laptop, a reliable internet connection, and an open mind to try things you haven't done before.
Will teams be assigned to us?
Unfortunately, it's difficult to do team assignment virtually. We therefore ask that you form teams on your own.
Are there ID or minimum age requirements to enter the event?
This competition is open to all youths aged 13 - 24 anywhere in the world. The only requirement is that you're still a student.
Do I need prior programming knowledge to join?
Prior programming knowledge would be helpful, since it's hard to teach lots of people programming concepts virtually. We will be there to answer questions you might have and to guide you. However, if you are a complete beginner at programming, this event may not be the right fit for you.
Does #codeForCorona own the prototype that I created?
Nope, your ideas are your own! We do however reserve the right to feature your prototype in photos, publications etc.
Can I work on my project prior to the hackathon?
Unfortunately, that would place other participants at a disadvantage, so that isn't allowed.
Will there be photographs and videos taken during the event?
Yes, please note that video and photographs will be taken of all participants as a condition for joining #codeForCorona. By signing up for this competition, you grant #codeForCorona and its representatives the right to take photographs of you and the work you produce at the hackathon. You also agree that #codeForCorona may use these photographs with or without your name for any lawful purpose, including for example such purposes as publicity, illustration, advertising, and Web content.
What is the maximum number of people per team?
The maximum number of people per team is 5, with the minimum of 1! .
Judging Criteria
"Hacker" Criteria (25%)
Were the appropriate technologies used to solve the problem? (3 pts)
Were the technologies used implemented well to solve the problem? (3 pts)
Does the solution work as intended from start to finish? (3 pts)
"Designer" Criteria (25%)
Does the UI look professional and/or fun, or is it sloppy? (3 pts)
Is the user experience seamless? (3 pts)
Does the workflow of the solution make sense; is it intuitive? (3 pts)
"COVID" Criteria (25%)
Does this project solve a real problem faced by people in a world with COVID-19? (3 pts)
How was the quality of the pitch? (3 pts)
Is this project one that the government's COVID-related efforts can support?
"Idea" Criteria (25%)
Was the idea behind the app ambitious and creative? (3pts)
Do you believe this will improve the lives of the people of the future? (3pts)
How much potential does this idea have to grow? (3 pts)