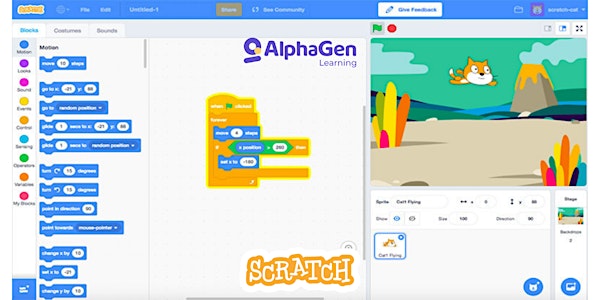 Coding on Scratch Ages 10 - 12
Get creative with visual programming. Best suited for: Everyone! From budding artists to future technocrats
About this event
Coding on Scratch
$225/camp
5 days • 90 minutes per day
Harness the endless possibilities of your young learner's imagination. In each week-long camp, your child will breathe life into animations, games & applications, for a fun learning experience. Developed by MIT, Scratch is a block-based coding platform ideal for introducing programming concepts. It's highly visual interface enables our learners to focus on problem-solving, patterns and logic.

Coding on Scratch
Introduces learners to Scratch and its possibilities and opens the door to an exciting world of technology.
Builds their coding principles and computational thinking
Simulates advanced programming concepts in an easy-to-understand visual environment with drag-and-drop functionality
Boosts confidence in young learners
Camp 1 - Scratch Creator
Core Learning
If they don't have one already, your child will set up their Scratch account and join an online community of 50 million fellow students.
Students get exposure to real-world applications and learn to create a simple version of a chatbot.
As the week progresses, they will become familiar with Scratch's potential and learn basic commands including Loops,
Conditionals and Variables and Sensing to get busy creating!
Prerequisites: This is a beginner level camp with no experience necessary.

Camp 2 - Scratch Master
Core Learning
The creative sandbox where our learners bring it all together with a can-do spirit!
Our happy campers can now conceive more interactive features in the animations, stories, and games that they design.
Students use more advanced concepts like Inputs, Cloning and Broadcast & Receive to create interactive stories, multi-player games and more
Prerequisites: Students need to have completed Coding on Scratch Camp 1 or similar introductory course as a prerequisite.

System Requirements
A laptop or tablet with connected keyboard and mouse, webcam, and a good Wi-Fi connection.