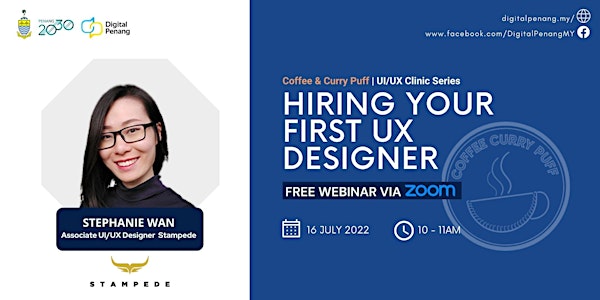 [Coffee and Curry Puff] Hiring Your First UX Designer
What to consider before hiring your first UX Designer?
About this event
Hiring a UX designer for your company can be a stressful process, even under the best conditions. When you're trying to build an incredible product that keeps customers coming back for more, how do you find the right person for the job? What traits and experiences should you look for when hiring candidates? What is essential in a UX/UI portfolio?
Join this webinar and find out more on how you can effectively identify the ideal UX designer for your business!
PS If you are a looking to start a career as a UX designer, come join this session and get more insights!
About Speaker:
Stephanie is a UI/UX Designer at Stampede Design. She completed her BSc in Psychology at the University of Manchester, UK and worked in the field of psychology for four years before making the switch to UI/UX. With experience working with clients from industries like healthcare, oil & gas and designing for the elderly, she is passionate about conducting UX research that solves users' problems.