Coffee Chat Sharing Session with Miri Country Music Festival
Coffee Chat :Music Festival Then, Now and The Future with Miss Mona as our main speaker this 24th September 2021
About this event
The well-loved music festival will bring country music to the seaside city of Miri, featuring a lineup of country musicians to draw in country music lovers from all walks of life. A festival for both the young and the old; activities include a bazaar offering various stalls selling wide varieties of food, games and souvenir items.
Meet our main speaker Miss Mona, Chief Executive Officer of Place Borneo Pte Ltd. She was also awarded by the Sarawak Convention bureau the Anak Sarawak Award for Best Incentive Program 2013.
She will share her experience on her journey on how she manages Place Borneo and provide us with her wisdom regarding marketing expertise true to her entrepreneurial nature. As we learn how to benefit as a musician, student, entrepreneur and many more. A case study of Miri Country Music Fest
Key Takeaways:
1) explore marketing capabilities in the music/art industry
2)Surviving the music and tourism business amid a pandemic
3)Managing and maintaining virtual events for the upcoming endemic
Host Interviewing Questions towards the Panel :
1)Hello Miss Mona, can you tell me a bit about yourself.
2) What is the story behind Miri Country Music Festival? How does it all start? Can your share with us your journey.
3)Looking back at the past, how did MCMF as a team survive during this pandemic, and how will it be for future events now that we are facing the phase of an endemic?
(MCMF youtube video footage such as MCMF videos on 2017,2018 and so on)
4)What genre of music does MCMF specialise in, and how will it be relevant for the next generation?
5)Marketing is a crucial element because you can be a great musician, but without enough marketing, you might not get the attention you deserve (and need). How can a musician market? Especially if you're a newcomer in the music industry. [this is based on my observation of the musicians we have dealt with in our events – both local and international musicians]
6)For a local musician, gaining internationally noticed would be a key milestone. How can they do this by leveraging on events?
7)From a music festival organiser's point of view, what do you look for in potential performers at your festivals/events?
Who should attend:
Entrepreneurs
Startups
Students
Public
Freelancer
Music lovers
Art Enthusiast
Agenda:
02.55 pm - Audience check-in via zoom
03.00 pm - Session start - Introduction of Place Borneo and Miri Country Music Festival
03.15 pm - Host will ask these questions towards Miss Mona
4.30 pm - Q & A Sessions from the attending audience
4.45 pm- End of Programme
Here is the link for joining the Webinar (Register now to get the Online Link)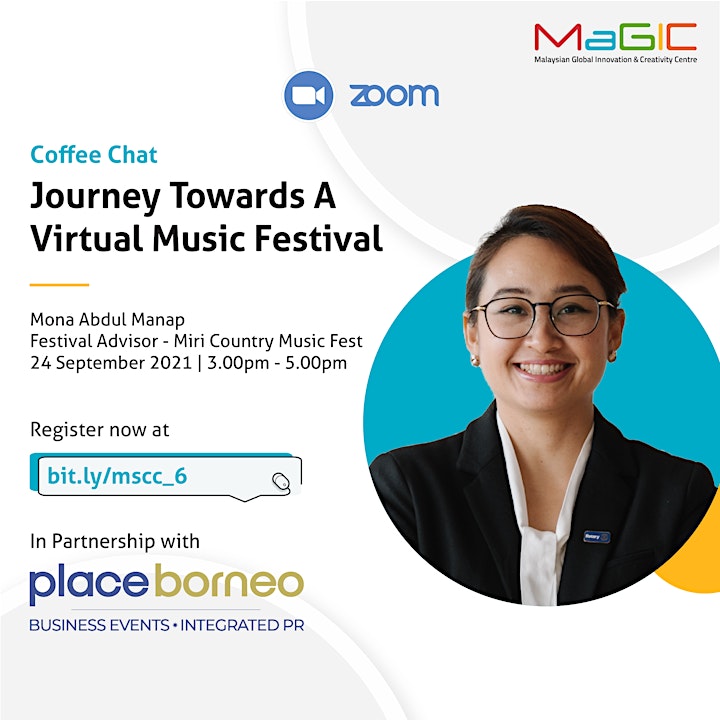 Organizer of Coffee Chat Sharing Session with Miri Country Music Festival