1-On-1 Coffee Workshop Masterclass with National Barista Champion 2017, Terence Tan.
About this Event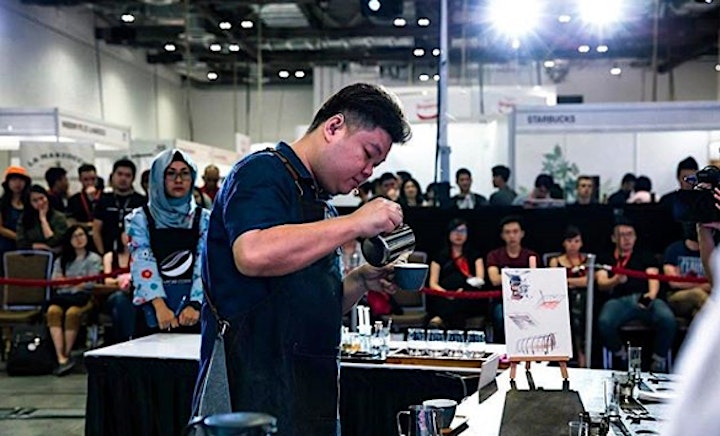 Introduction:
This 1 on 1 coffee workshop masterclass is designed for coffee enthusiasts who are looking for a more focussed session and undivided attention as they pick up and refine barista skills in the area of espresso extraction, milk frothing, free pouring, and latte art. You will be guided by National Barista Champion 2017, Terence Tan in a solo class setting, which means that the pace and focus of the masterclass is catered to your needs.
The masterclass will feature:
-Introduction to Espresso Machine and Grinder
-Barista Technique
-Espresso Tasting
-Milk Frothing Technique
-Milk Pouring Technique
About the Trainer:
Terence Tan
- National Barista Champion 2017
- Founder & Head Roaster, TAD Coffee Singapore
- Specialty Coffee Association (SCA) Certified Trainer
- ASEAN Coffee Federation Barista Trainer (Singapore)
Why Join This Workshop?
There is so much to the world of specialty coffee. It really isn't just about buying the most expensive coffee beans out there. To bring out the best in the coffee, you will need to understand how it was grown and processed, along with the innate flavour profiles associated with the coffee. Only then, can one decide how best it should ground, extracted, and drank.
No two cups of coffee are exactly the same, and even with the same brewing specifications, two different people can produce cups of coffee that are quite different in body, aroma, and taste. The beautiful thing about coffee is that there isn't a right or wrong way to brew coffee. However, it does require training for you to engineer the taste of your desired cup, rather than leaving it to chance.
This is where this masterclass comes in - to provide a more focussed platform for the more serious coffee geeks out there who want to go beyond just making the cup of coffee, but also want to dive into considerations behind various decisions made throughout the coffee making process.
Min1 pax
Max 1 pax
Organiser: World Coffee Mart
Marketed by: OnCoffeeMakers (OCM)
PS: Check out somf of our Free Coffee Workshops Online