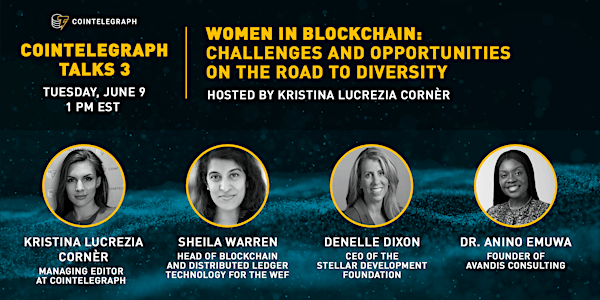 Cointelegraph Talks #3
Cointelegraph Talks is a series of online events with the most interesting content from top speakers!
About this event
Cointelegraph Talks is a series of online meetups where influencers in the crypto industry discuss the hottest topics for one hour. Cointelegraph invites analysts, traders and famous crypto gurus to join the event.
Join us and three influencers of the financial industry on June 9 to discuss what a huge role inclusion plays in blockchain technology now.
Meet the speakers of Cointelegraph Talks #3:
Sheila Warren, the head of blockchain, digital assets and data policy of the World Economic Forum.
Denelle Dixon, the CEO and executive director of the Stellar Development Foundation.
Dr. Anino Emuwa, the founder and managing director of Avandis Consulting
This time, Kristina Lucrezia Cornèr, the managing editor at Cointelegraph, will be hosting the meeting.
See you there!